I would love to be able to arrange flowers rather than just dumping them into a pretty vase and hoping for the best. So when I was invited along to a flower arranging workshop with Marks and Spencer last month I jumped at the chance to learn a few tips and tricks from their Flower Expert, Simon Richards, and we had free rein over buckets and buckets of M&S flowers – perfect! They have even put together a special page of step by step flower arranging tips for us so do make sure you check it out.
Bright blooms
We started off by experimenting with brighter than bright blooms and using them to decorate a table setting. This is a super easy way of decorating a dining table and you don't need many flowers to do so and it creates far more impact than just one vase in the middle of the table.
Simon encouraged us to use the flowers to decorate the plates, cups and glasses, as well as using petals to decorate the table setting too. Combined with the colourful crockery the flowers create such a happy, cheerful vibe and it couldn't have been easier – whatever goes really!
Roses
Simon then gave us a masterclass in how to take care of and arrange roses. We were lucky enough to be using beautiful Dutch roses from M&S in soft pinks and whites, which made us feel all bridal!
The first thing to do is strip the stems of leaves as there should never been any leaves below the water level of your vase. We were then shown how to arrange them in a hand tied bouquet.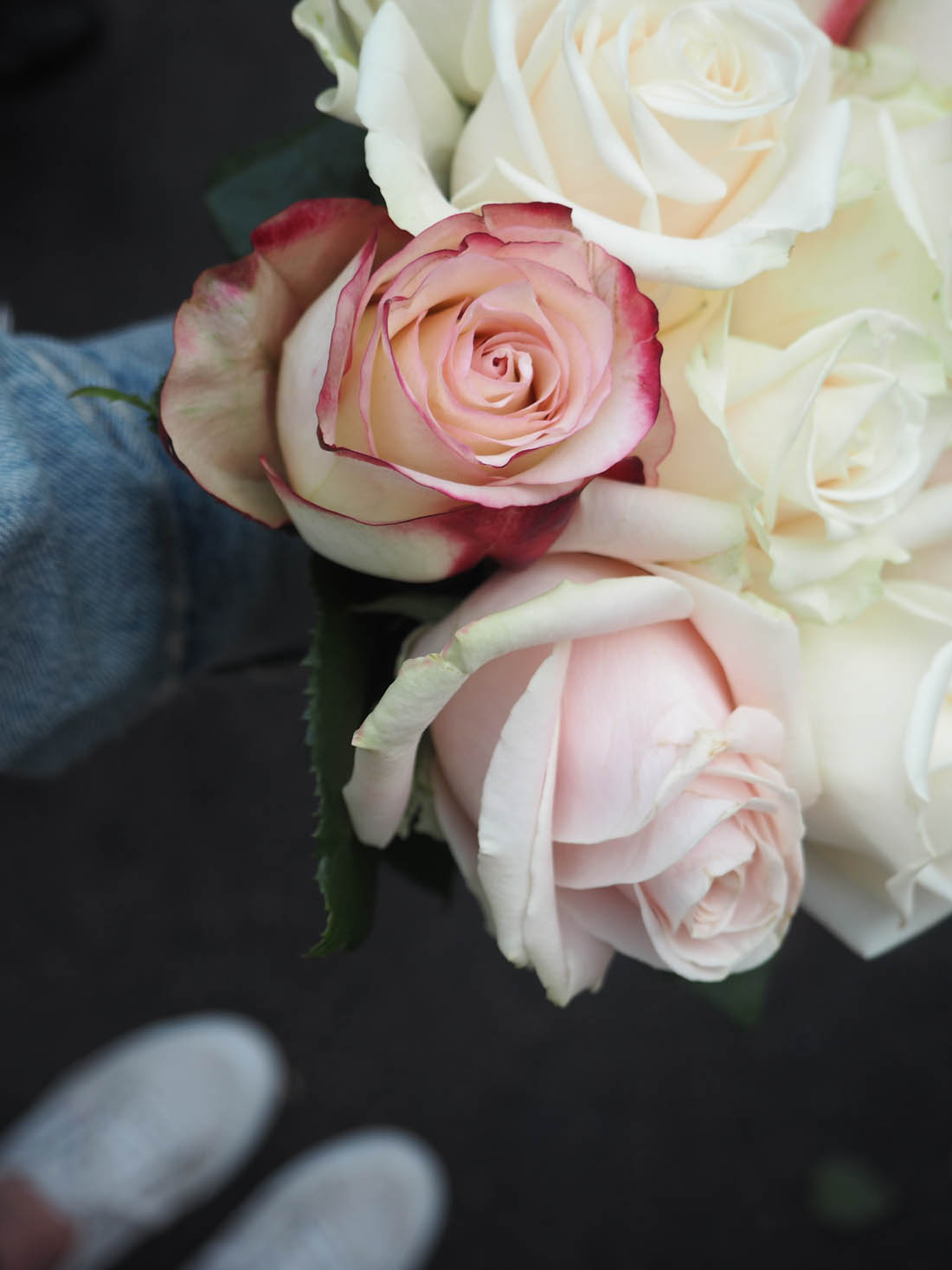 If you are lucky enough to receive a bunch of roses you should cut the stems at a diagonal and use a vase that narrows at the top as they will sit perfectly in that. Always make sure your vase is squeaky clean as bacteria will kill your flowers and add the flower food that comes with your bouquet but change the water every couple of days.
When I returned home with an armful of roses I tried to recreate Simon's idea of dressing a table setting with flowers, this time using a slightly softer colour palette.
What is your favourite way to arrange flowers – got any good tips of your own?
Katy x
*This post was written in collaboration with M&S.