Our loose plan when we bought our small 30s house was to extend the living space (currently one open plan space including the kitchen, dining and sitting room) after five years. The extension will involve going out at the back by around three metres, which will become a dining space allowing us to build the kitchen into the current dining space and close off the sitting room. As we approach that five year mark the mortgage climate and cost of living has made this project unfeasible for now so I decided just before Christmas to invest some time and a small amount of money into decorating the space instead, something we've never really done because in the back of our minds it has seemed like a waste of energy with a big extension on the horizon.
My first priority was to paint the space. I was tempted to go bold but knowing myself and the fact that this is the only living space we have I knew warm neutrals was the way to go to blot out the cold drab brilliant white. It may not look hugely different in photographs BUT it makes the world of difference in how the room feels and how well furniture and artwork sits against the walls.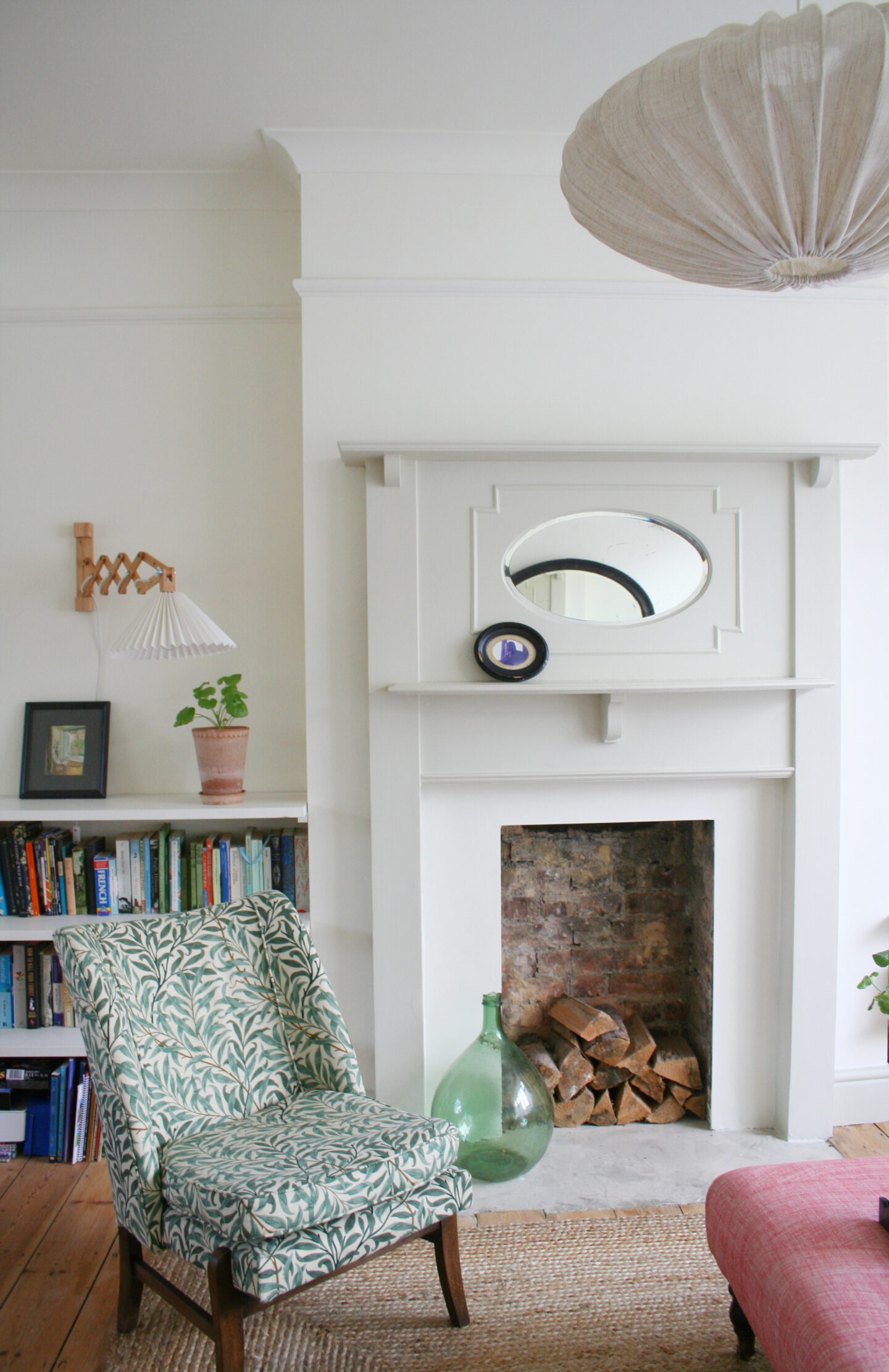 I started the big painting project at the start of December knowing I had four weeks off college and no work until January. What was I thinking?!! Imagine the Christmas fun I could have had instead of painting in every spare moment! Anyhoo, it was all worth it for the difference it has made. I chose COAT paint* having worked with them on a previous collaboration so I know how good the coverage is and the company's eco-credentials. I'm also very keen on how tough and durable the matt eggshell is as our house takes a beating being so small and having a big dog and a young child. I have already scrubbed the walls and skirting down after mud shaken all over them and they came up good as new.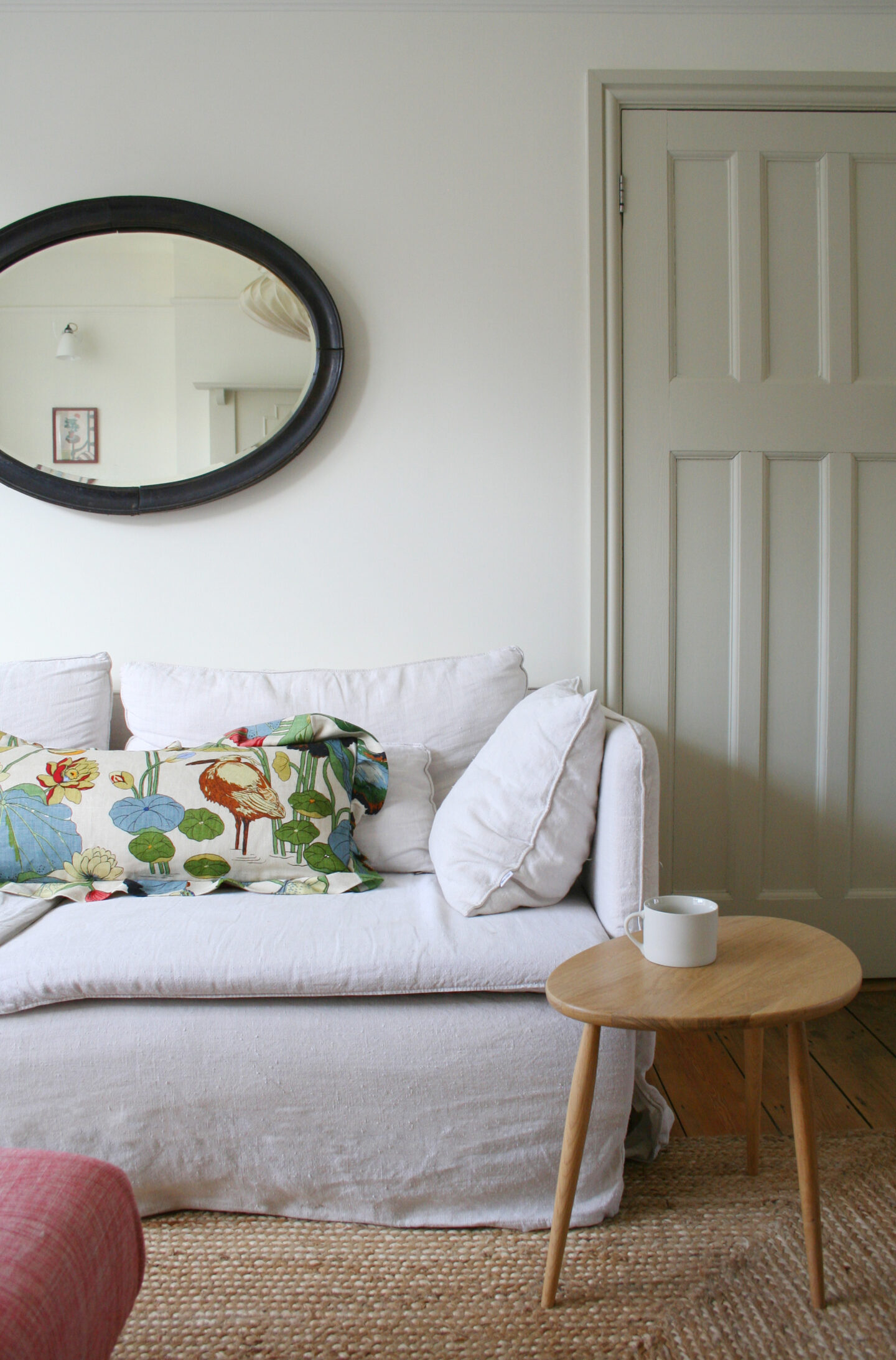 I've loved seeing the transformation of Laura Jackson's home using her Paris-inspired collection of paints with COAT so I chose Bookstore for the walls – a clean but warm yellow-based white – Cafe Flore for the woodwork and fireplace – a richer unctuous green-based neutral – and The Tobacconist for the uPVC window and door frames – a very dark bronze green.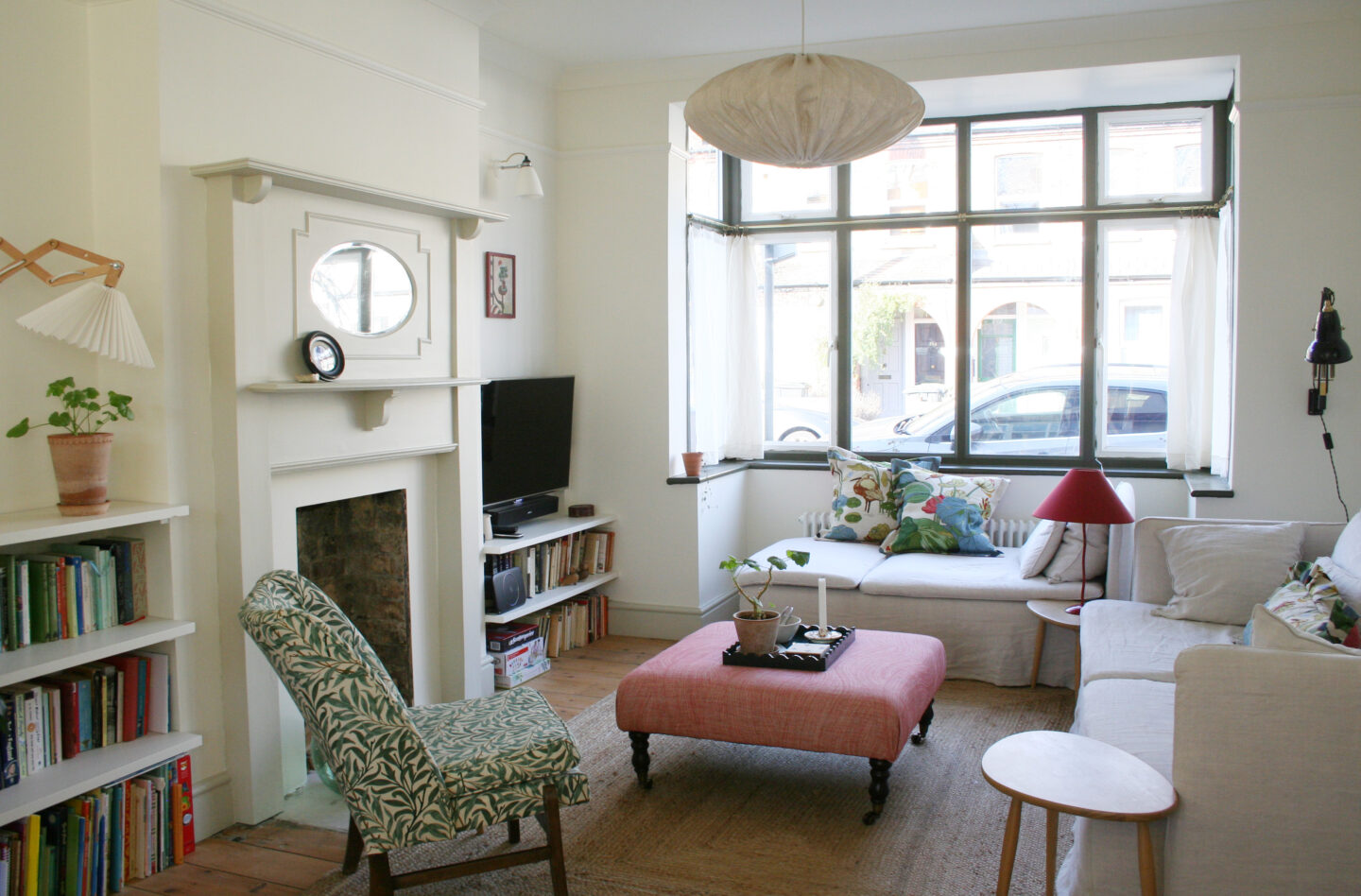 If you want more info about how I painted the uPVC frames do read this post Painting internal uPVC window frames. Friends that have come round since I've painted the frames have honestly thought I've had new windows and doors put in – painting them dark is so effective.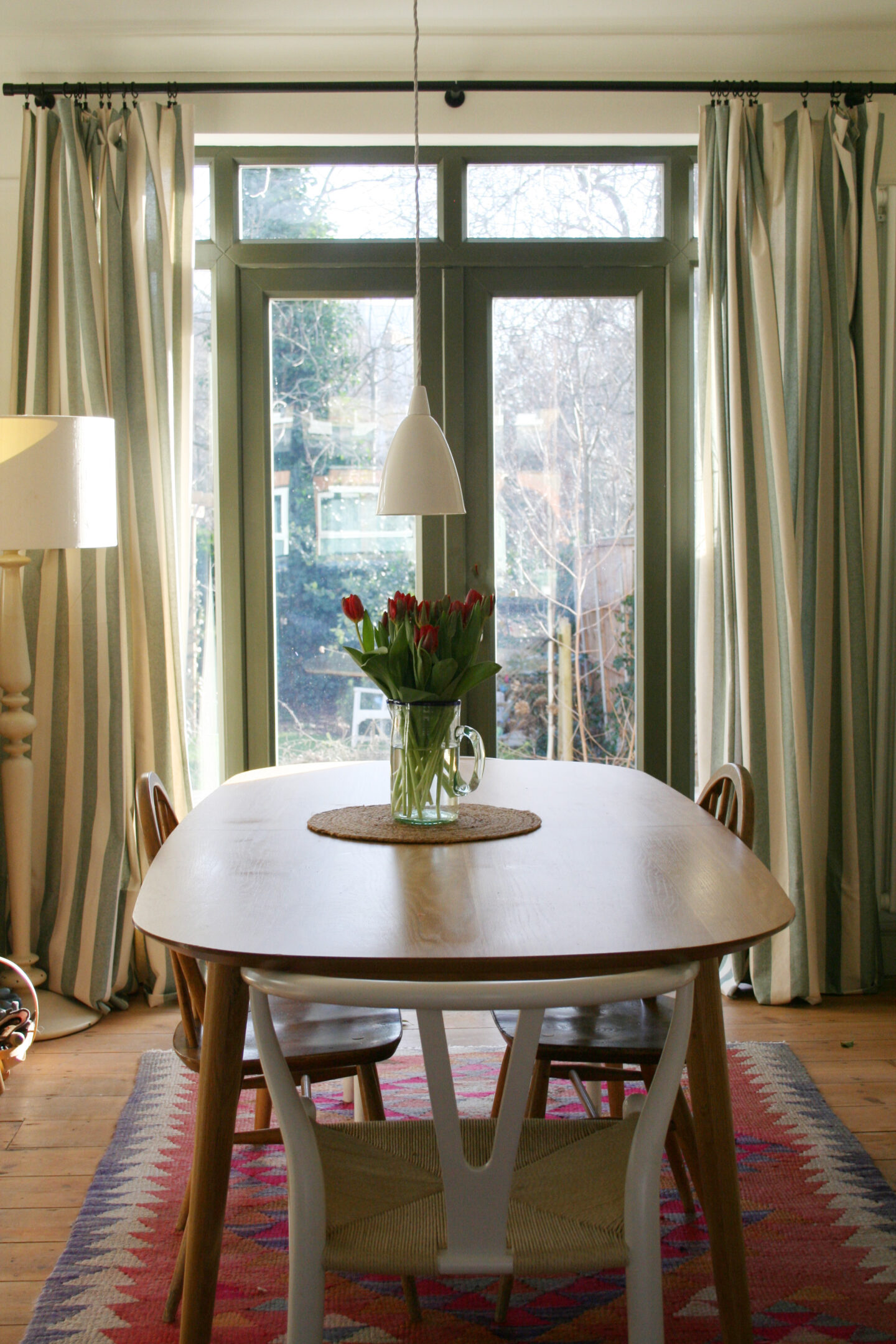 Once the painting was complete (well, almost – I still have a couple of window frames to do when it's warm enough to open them all day to allow the paint to dry) I turned my attention to adding some beautiful textiles. I didn't want to change any of the furniture as there is nothing wrong with it but we have never invested in curtains, blinds, cushions, lampshades etc. I decided to make a big set of curtains for the French doors to the garden as it's always been unpleasant having naked glass at night time and not only does it draw attention away from the uPVC frames it adds such a big volume of fabric to the space that makes it feel so much cosier and less echoey! I chose vertical stripes as this also makes the ceiling feel higher. I will a separate post about how I made the curtains but they're not quite finished yet as they're currently hanging on clips so I still need to sew in the curtain header and then hang them on rings.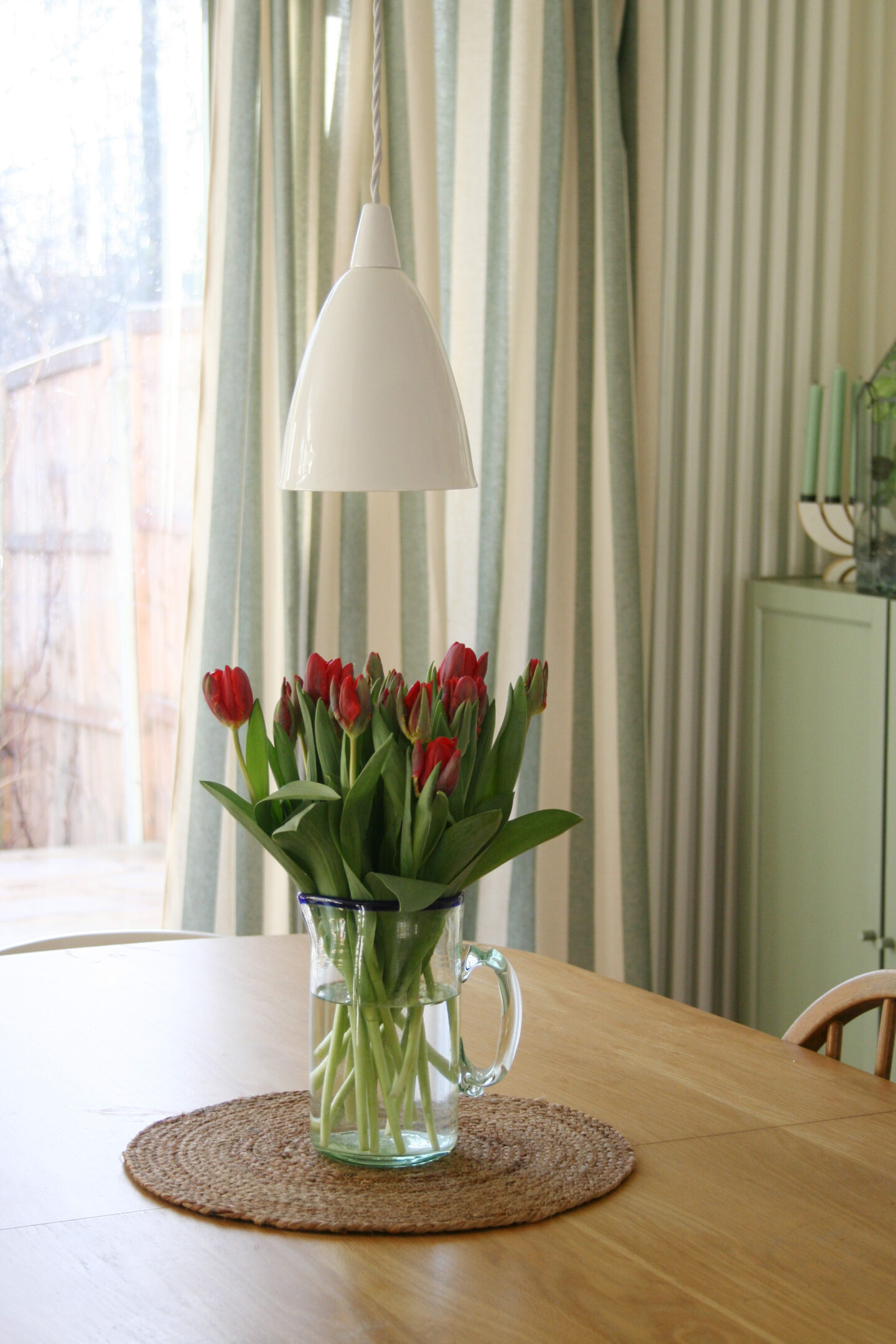 Another big addition was the DIY Fermoie ottoman that I bought second hand and covered myself. It is another lovely soft addition to the space and works in combination with the warm neutrals to make the space more inviting.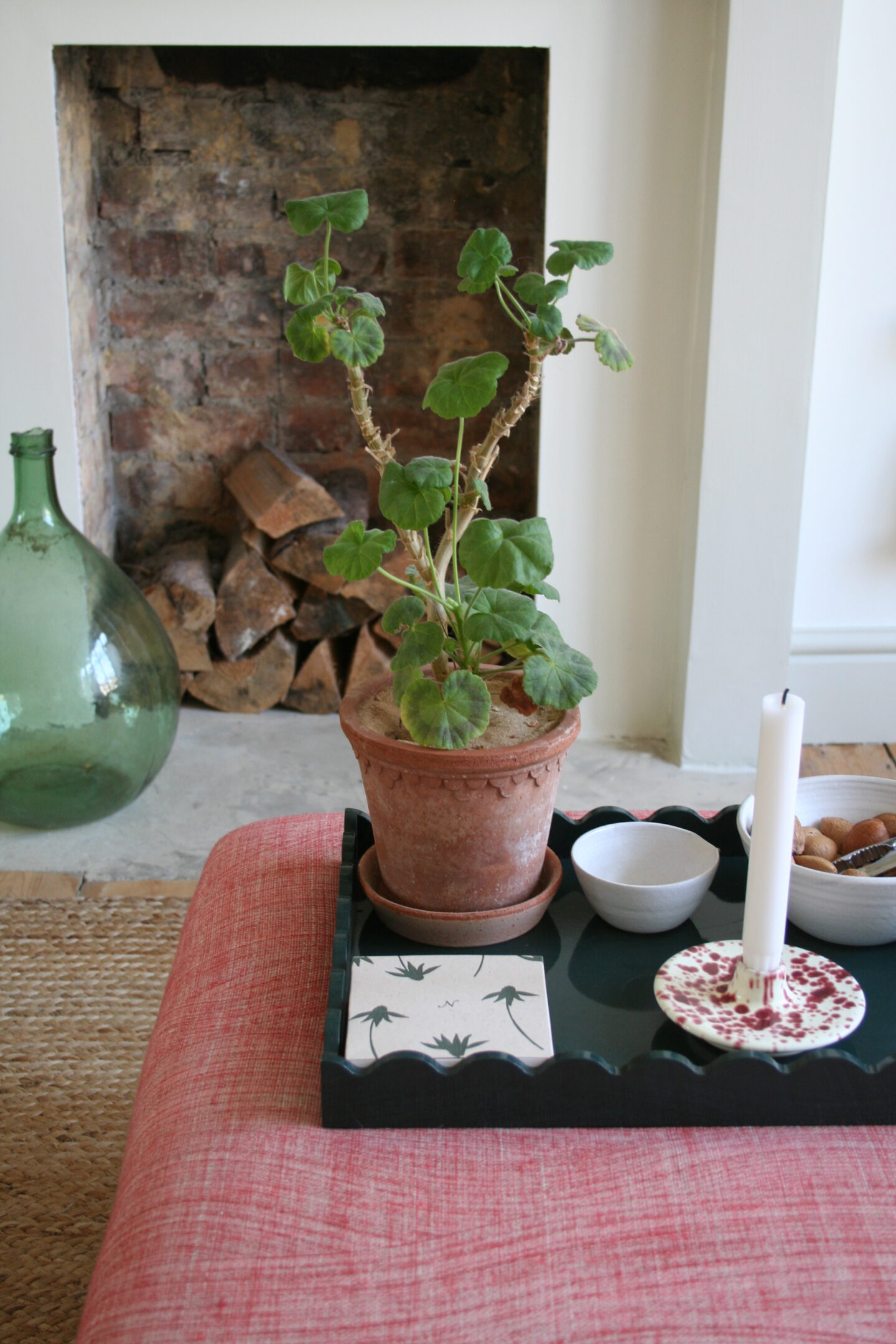 I had my grandmother's chair re-upholstered for my 40th a couple of years ago in Willow Bough fabric and I wanted that to be a part of this space and it works perfectly with the new paint colours. I then chose a fabric that would work in harmony with the chair, ottoman and curtains to make into cushions. This is one of my all time favourite fabrics and I just LOVE the cushions.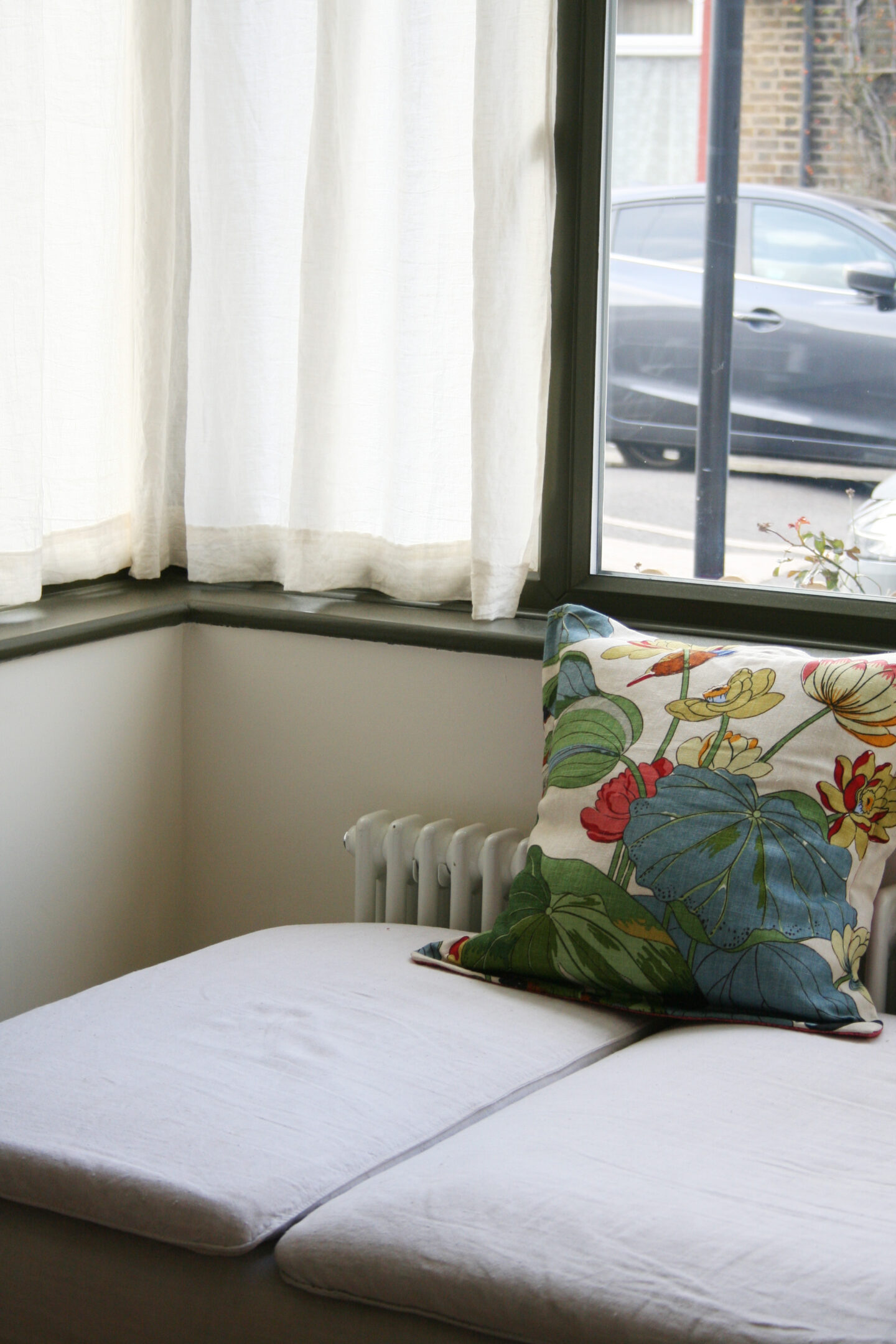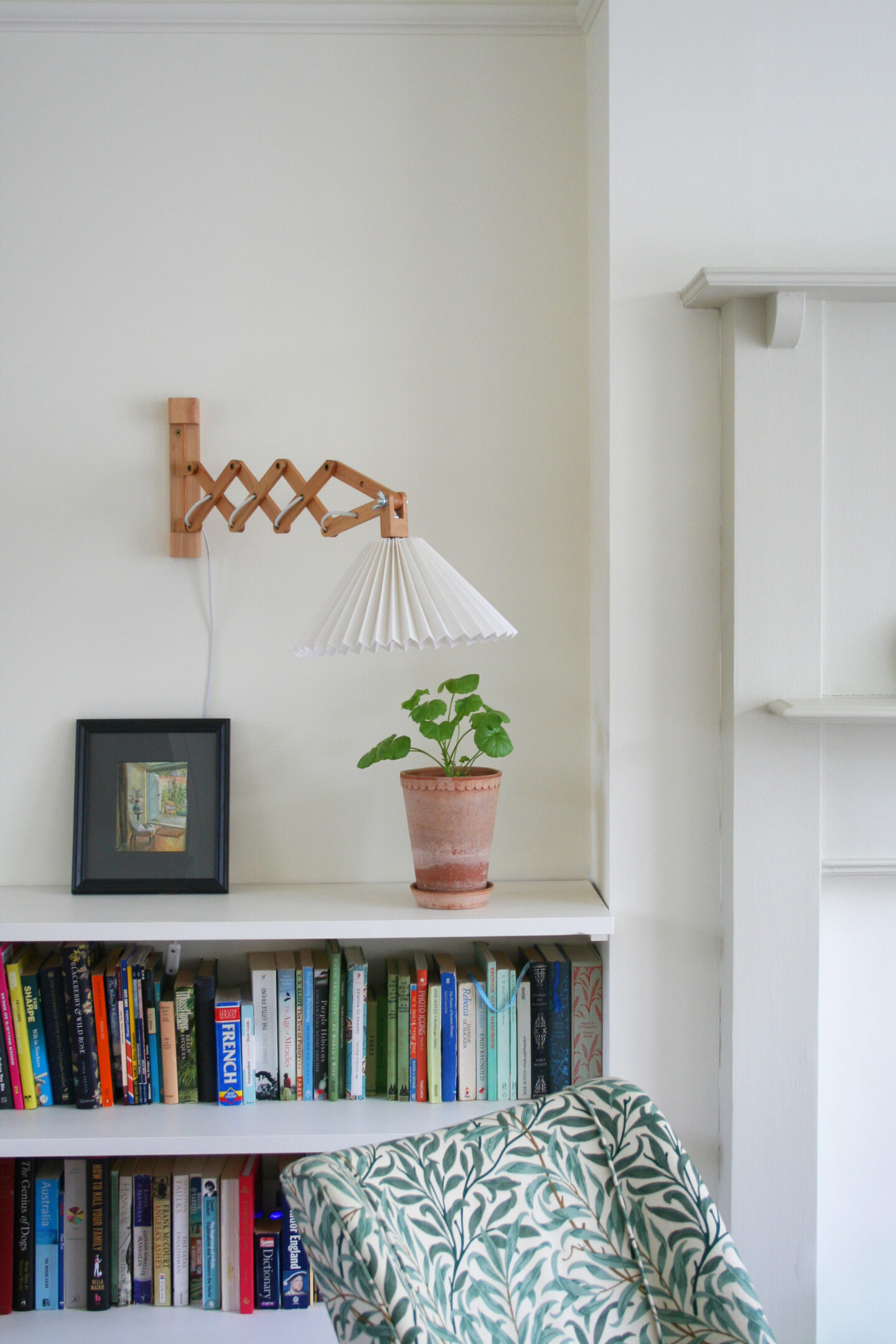 I left the cabinet in the corner painted in COAT's Park Life paint and it's a really nice way to pull together the green strands that are now running through the textiles in this room.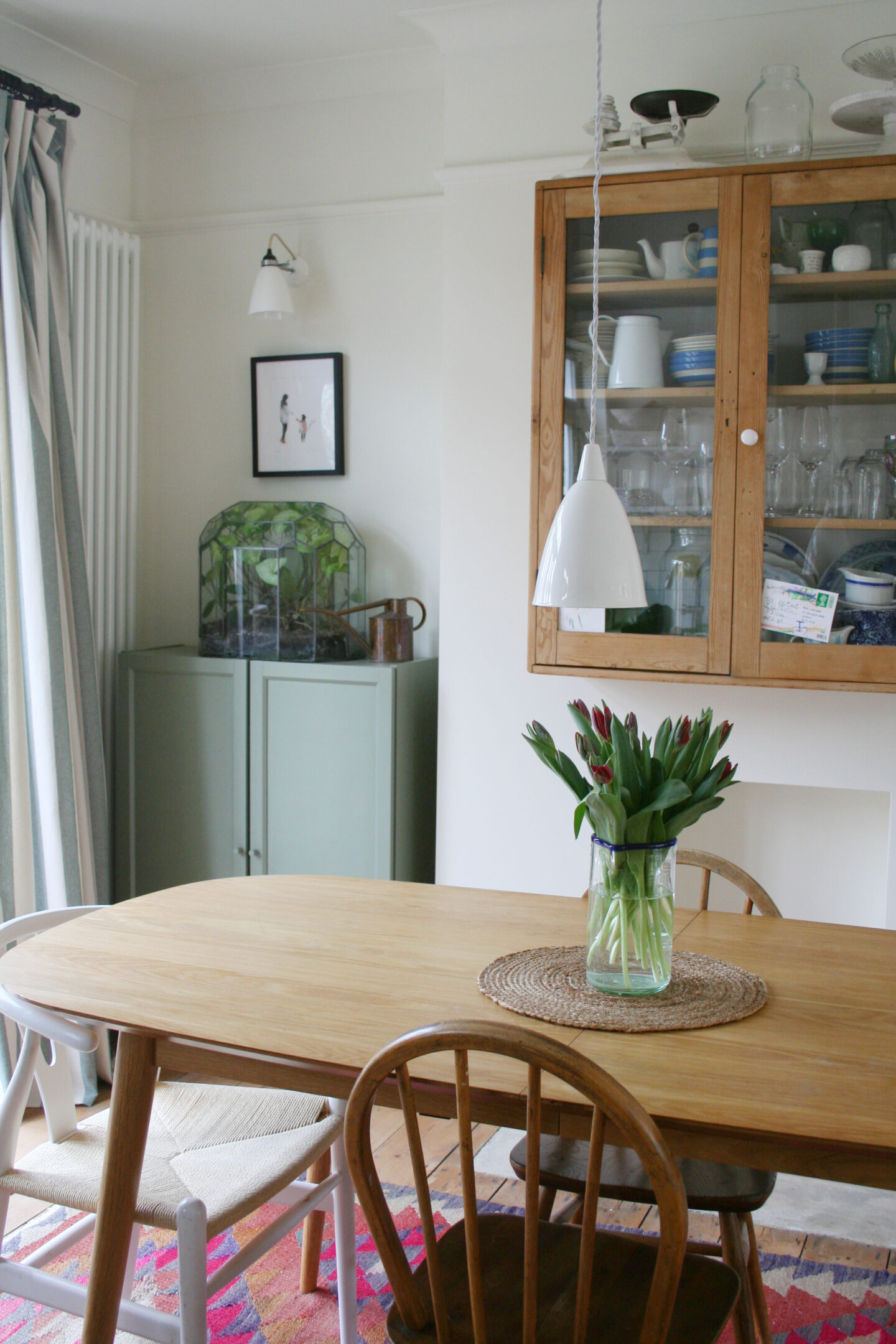 I love the calm vibe these neutrals give to this space and how much better furniture, especially wooden pieces like my little bureau, look against a warm white instead of cold brilliant white.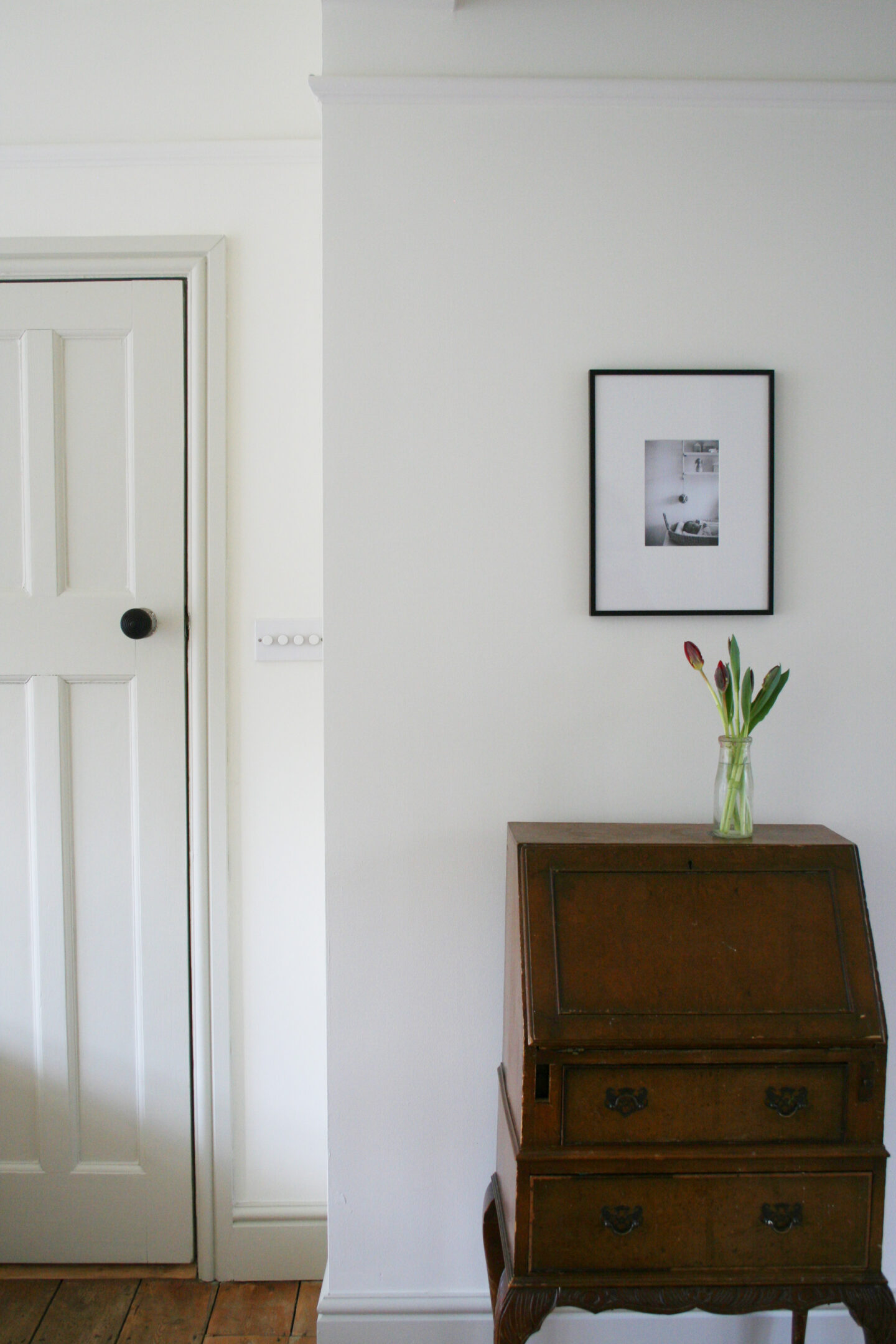 Another BIG project is to add built-in cupboards and book shelves to the ceiling in the large double alcove below to hide all the six year old's crafting paraphernalia!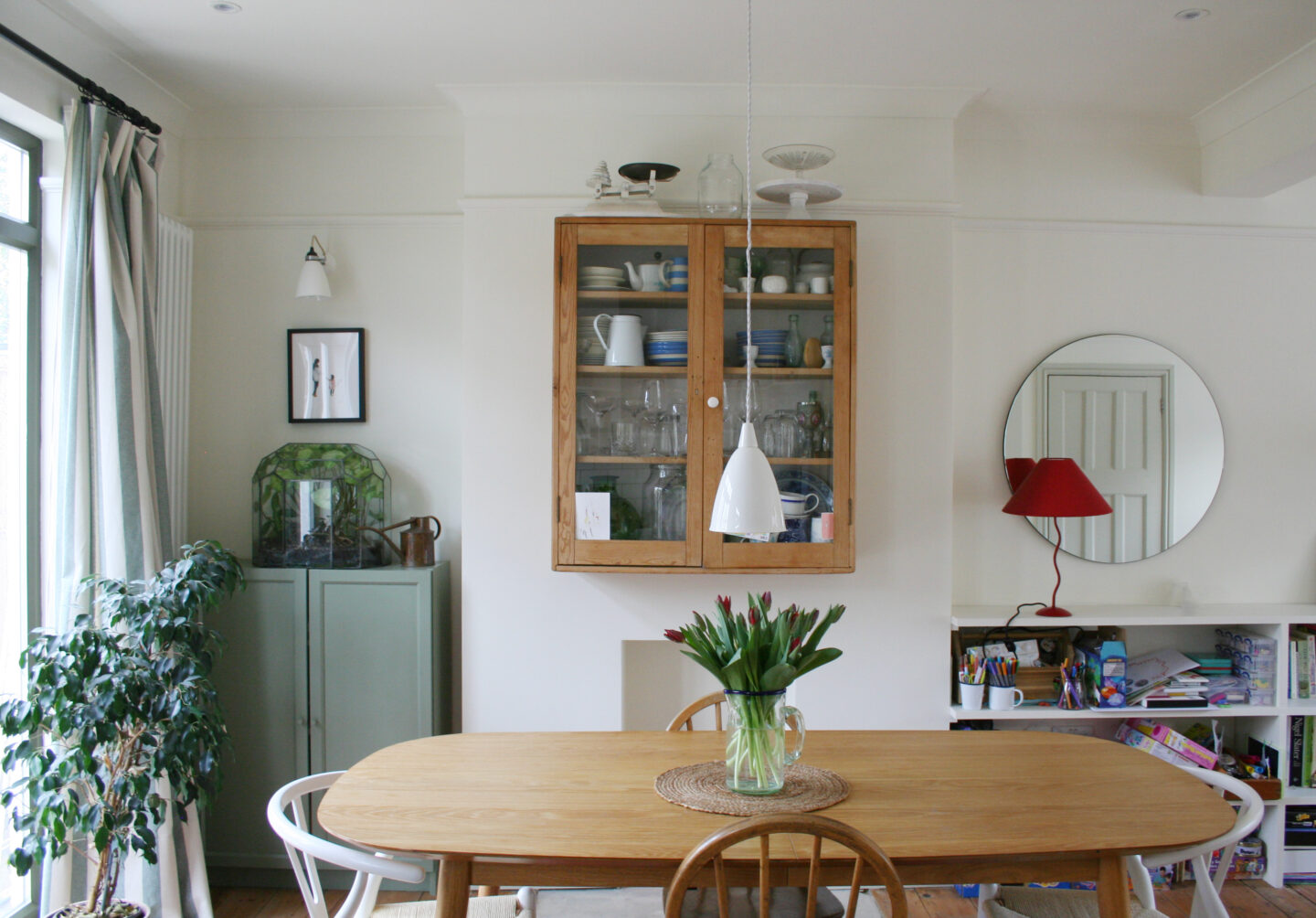 The last addition to the room was a large linen pendant in the sitting room space to help define that space as separate from the dining/kitchen space. It has worked so well for us, with the house the size it is, to have an open plan living room but once we extend I would definitely like to partially close up the sitting room again.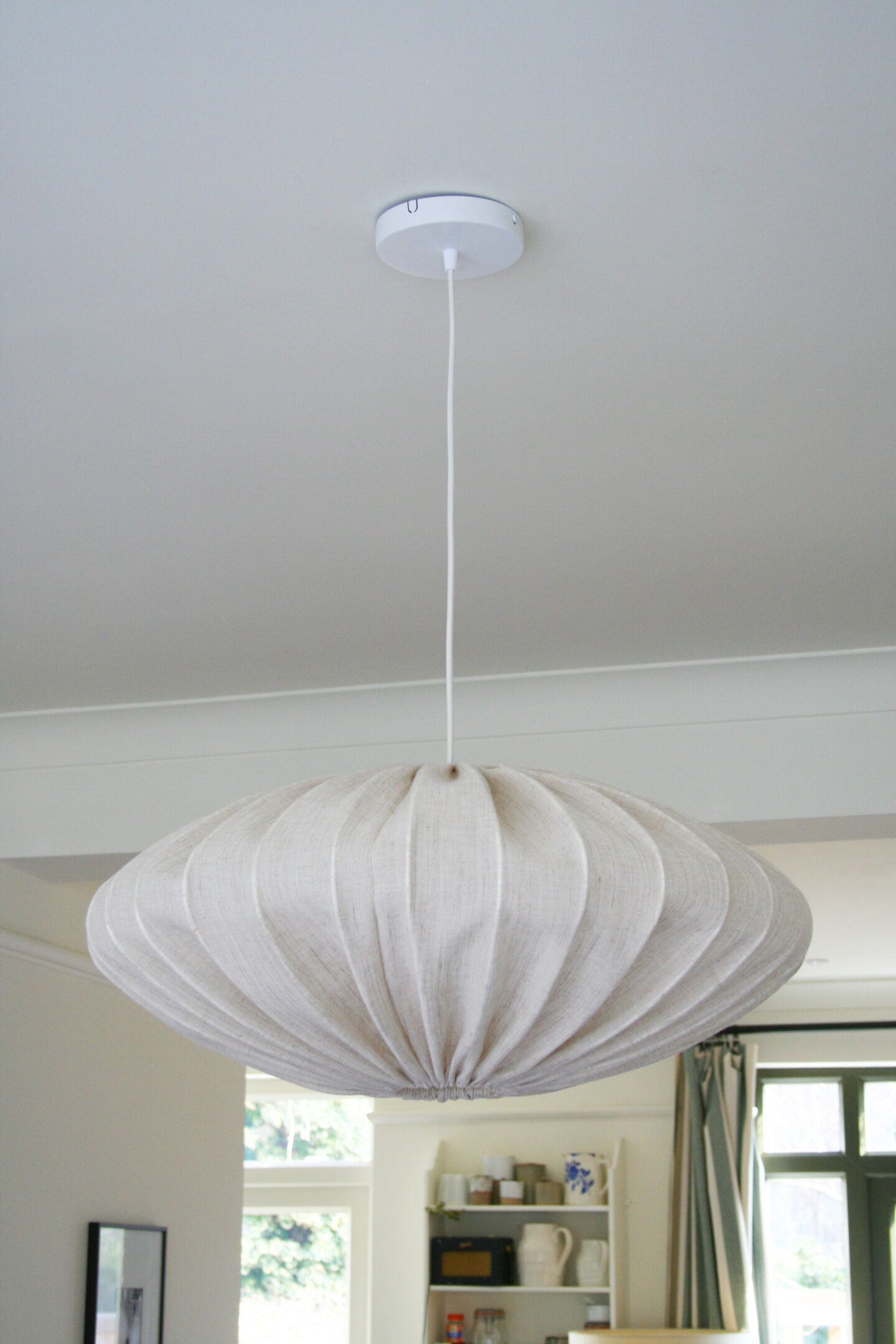 Picking out the doors and woodwork in the darker neutral Cafe Flore has worked really well to emphasise the characterful 1930s doors and fire surround.
I love the new touches of different tones of red around the room that give a bit of interest and contrast with the neutral walls.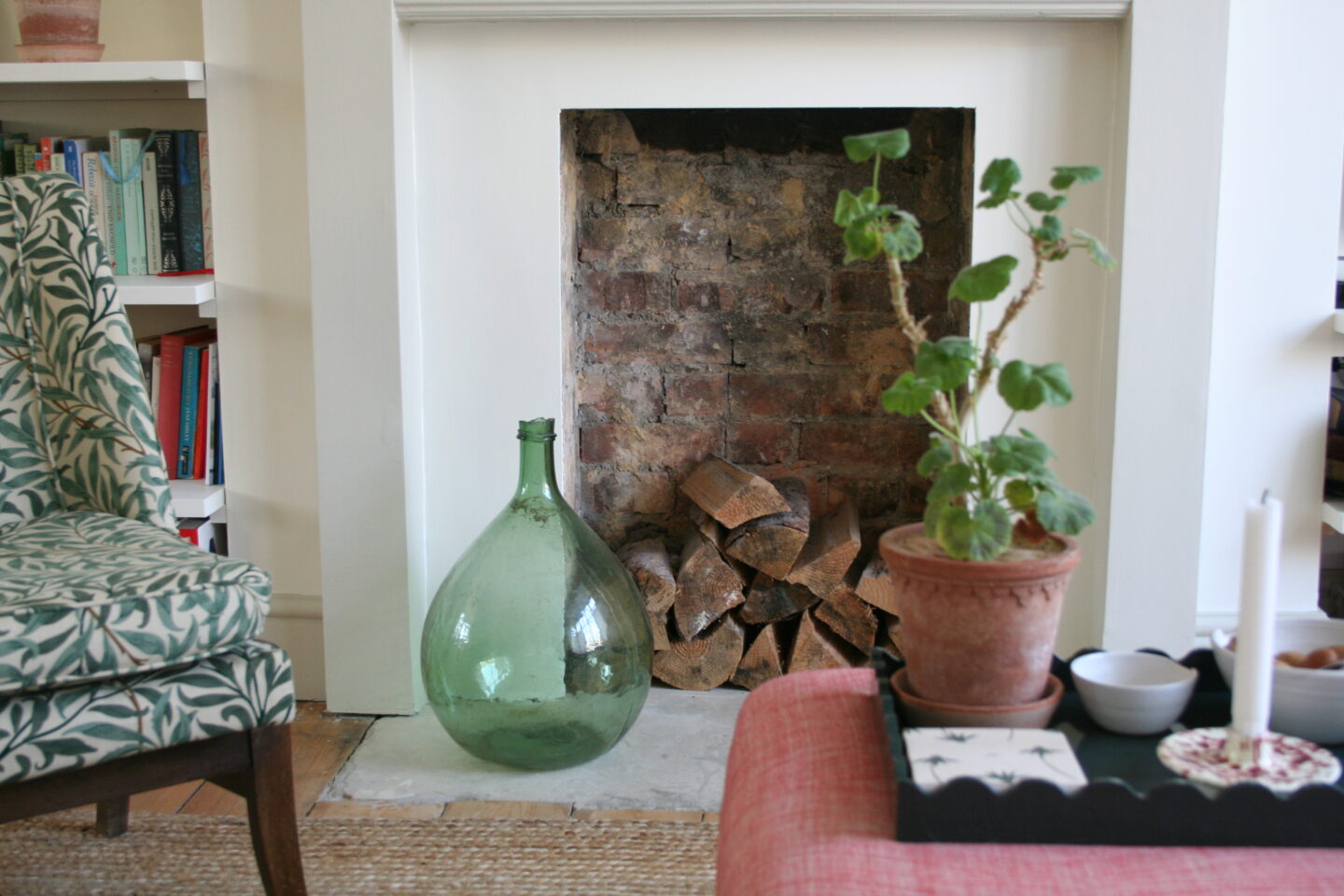 I still need to buy a replacement black handle for the uPVC doors below and I would love to add some mini chequer board tiles on the hearth of this fireplace to continue the thread of the tiles in the hallway: 1930s hallway.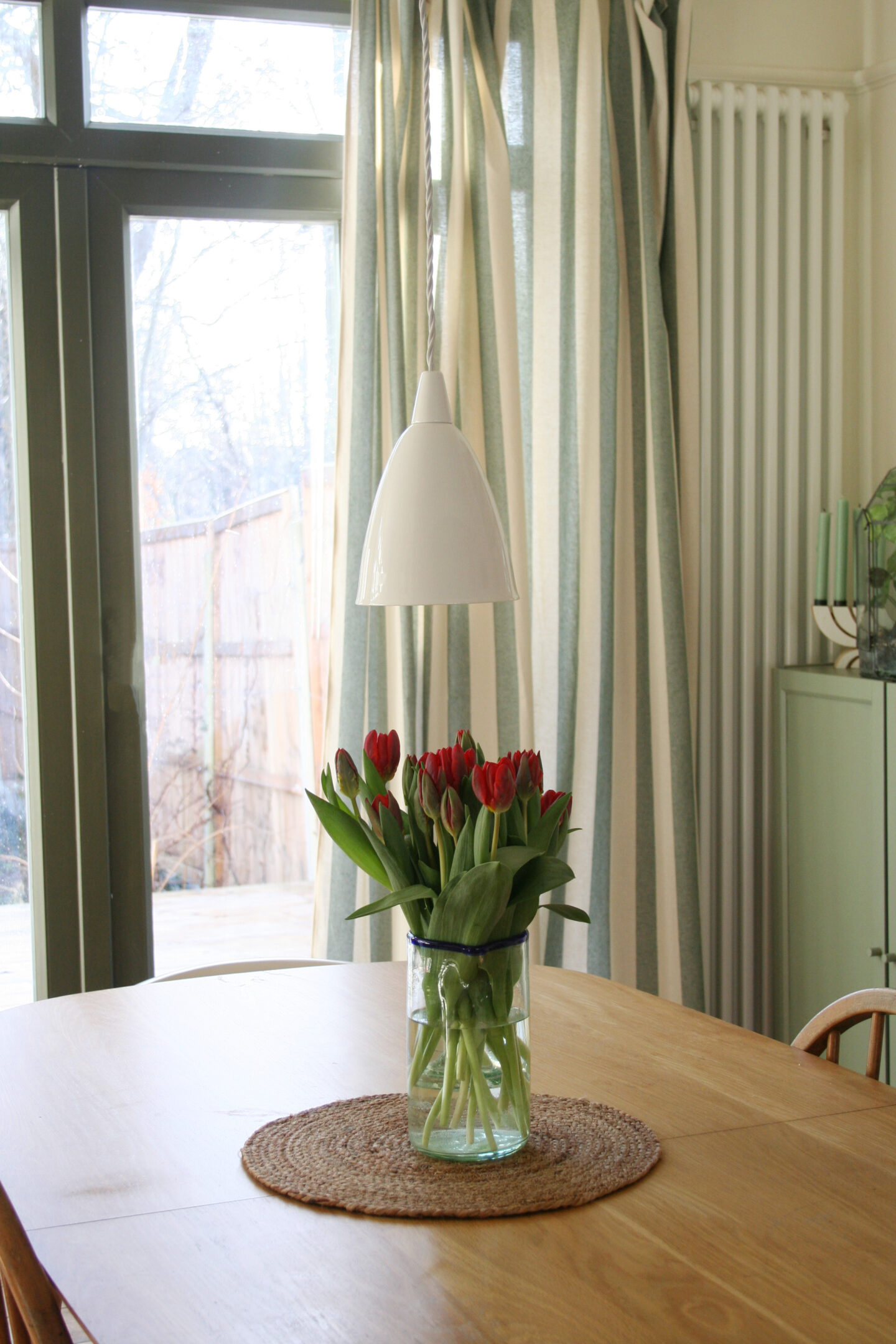 I promise to also do a blog post about how I made this frilled cushion. I sort of made up the pattern myself but I managed to make three big cushion covers from just one metre of the Nympheus fabric so I hope it's worth sharing how to make the most of some beautiful fabric.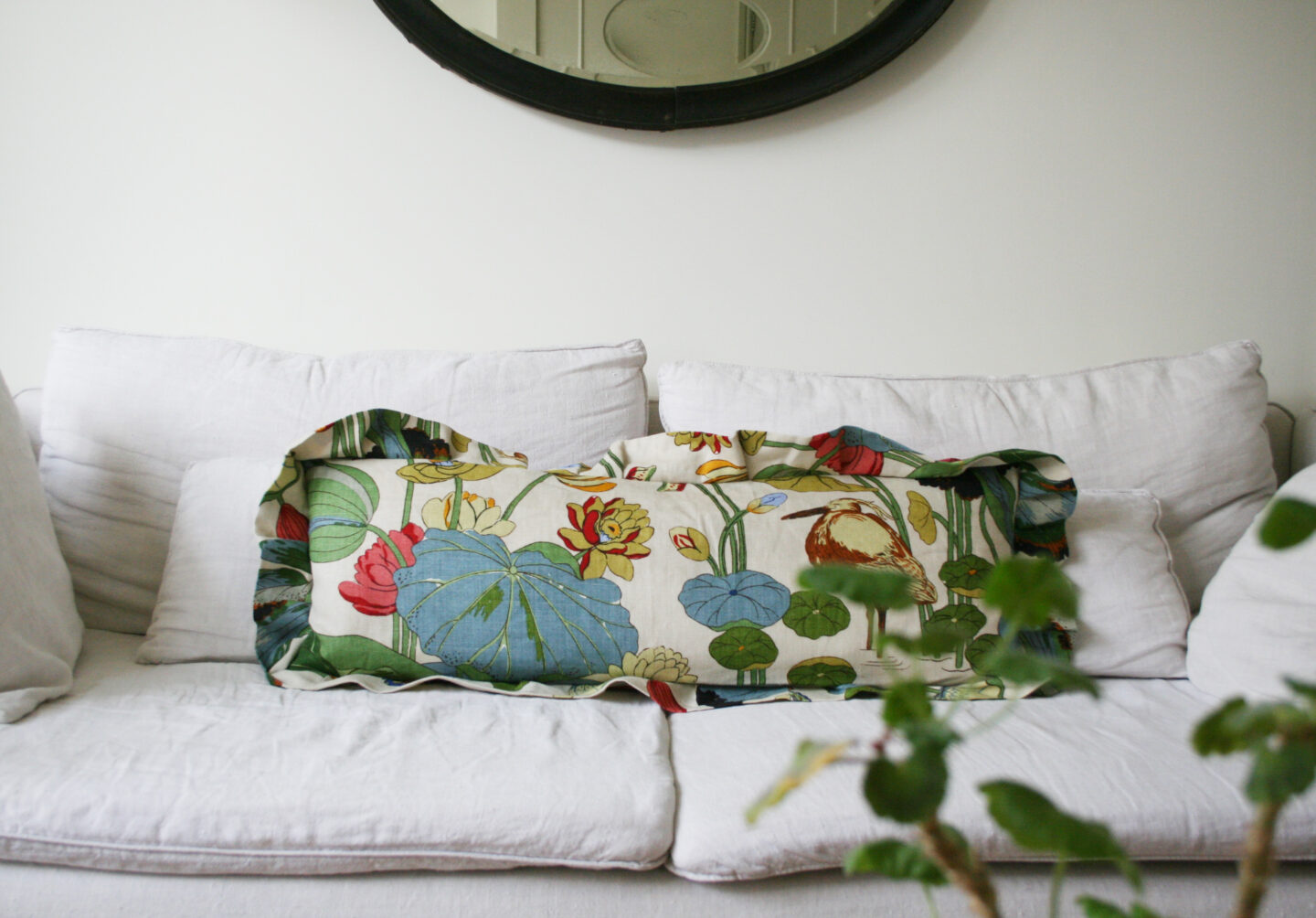 Oh yeh, one more project still remains… roman blinds for the bay window to hang above the cafe curtains: Making cafe curtains for a bay window So, you know, the sitting room is "finished"!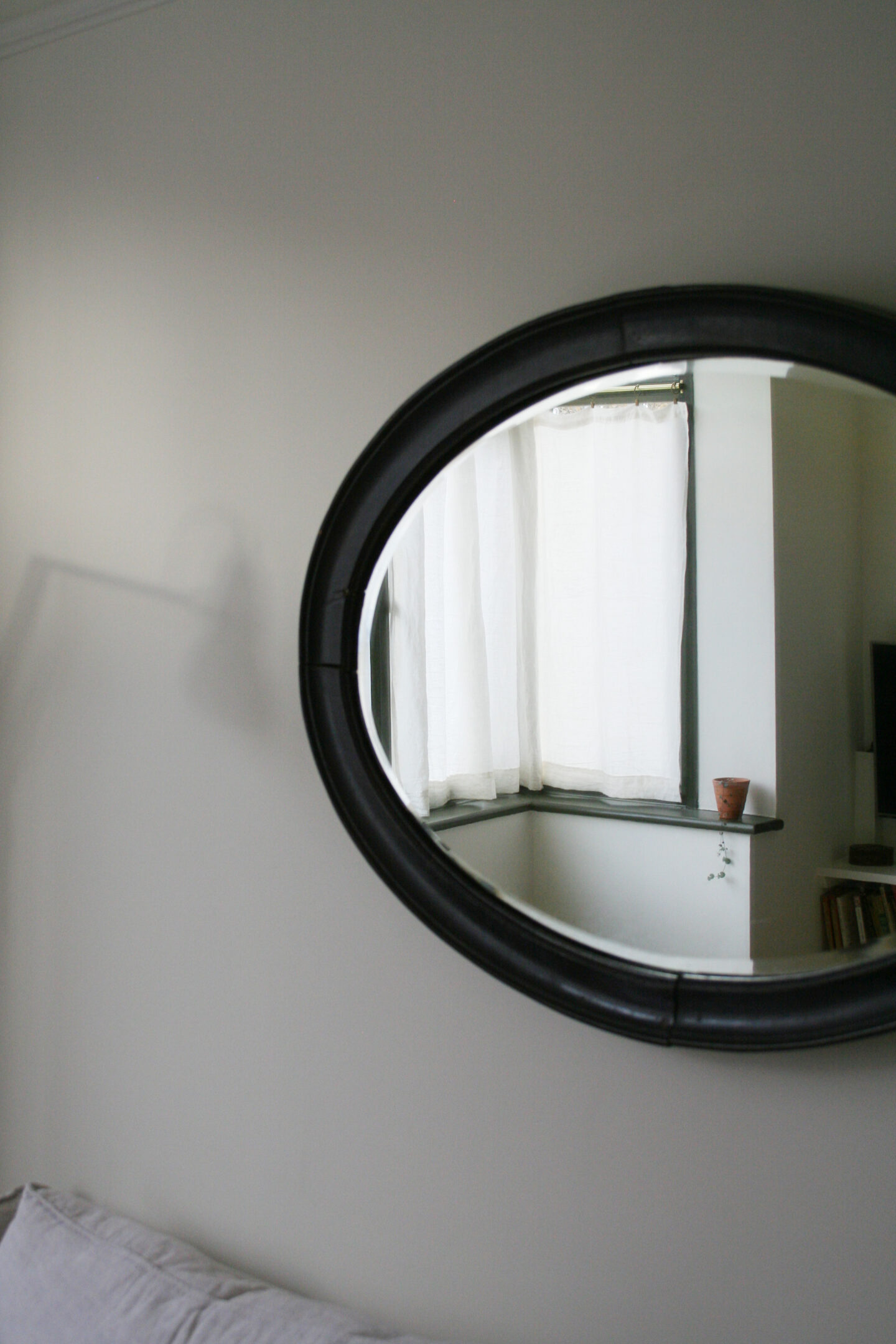 I hope you like the changes to make this space feel warmer, softer and more inviting introducing more greens and reds and less cold blues and whites. I will keep you updated as I add the finishing touches.
Katy x
Source list:
*COAT paints (AD – PR Product) – Walls and ceiling BOOKSTORE, woodwork and fire surround CAFE FLORE, window and door frames THE TOBACCONIST
Linen pendant – Ellipse lamp shade by Watt and Veke
Cushion fabric – Nympheus fabric (pistacio and stone linen)
Fermoie fabric on Ottoman – Haines Collection
Striped curtain fabric – The Cloth Shop
Red wiggle lamp – Bias Editions
Kilim rug – Nain Trading
Jute rug – Dunelm
Bemz linen sofa covers – Simply Linen, unbleached, relaxed fit