I grew up in a large Victorian house and then we moved to a Georgian townhouse when I was a teenager so I feel very comfortable in period homes. In the past when I thought about what type of house I would like to buy I always had in my mind a Victorian terraced house. However, I am now a 1930s convert. Admittedly, I don't think I would have ever looked at a 1930s house if budget had not been one of the main driving forces behind our house search so it feels like a happy accident that what we could afford is actually, in my opinion, going to be a better family home for us than a Victorian house would have been. Even in its full pebble dash glory 😉
So, what is it about a 1930s home that has converted me? And how did I figure out that I could make it work for us?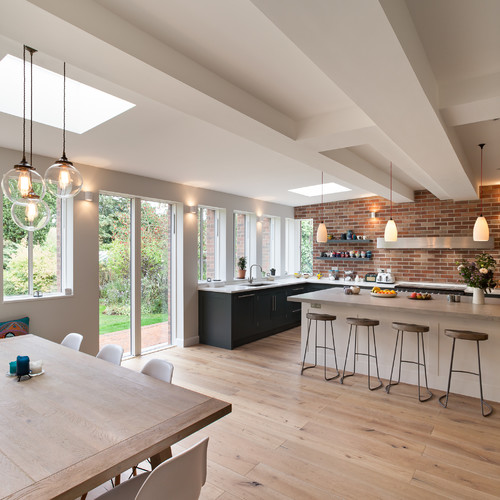 1. Purpose built
Compared to Victorian terraces, 1930s houses are purpose built for one family so the layout works really well. No downstairs bathrooms, no skinny hallways, no long narrow kitchen extensions that don't make the most of the garden, no dark rooms with a lack of windows. The rooms are square and well proportioned and everything is where it should be.
2. Easy to extend
The shape and layout of a 1930s house make them ideal for extensions at the back of the house and into the loft. Coupled with the fact that during this era houses had bigger gardens than earlier houses, largely because they were built further away from the centre of towns and cities, creating the suburbs, means that extending won't mean you end up with no garden.
3. Back of house opens up onto garden
My pet hate about certain houses is the fact that you can't see or access the garden conveniently. I really dislike sitting in a room at the back of a house and having no sense that there is a garden. I think that if you can't access your garden freely you won't use your garden, especially if you have kids and can't see what they are doing from the house. I am SO excited about the fact that our new house is completely open to the garden right across the back of the house. The idea of that makes me really happy and until we can afford to extend Jules is going to build a deck that goes straight out from the house, which effectively will give us more living space.
4. Knock down walls
It is very easy to remove walls in a 30s house to create open plan living, if that is your thing, as the layout is so square. This makes even the tiniest house suitable for a family as you can create space.
5. Period features
I really love that there are still period features in 30s house that make it feel like a Victorian terrace. Picture rails, architraves, doors, banisters, bay windows, fireplaces and tiled hearths all make it feel cosy and homely to me.
6. Garden size
As I have already mentioned the garden size of a 30s house compared to earlier houses is generally a lot bigger as they were built on the outskirts of towns and cities. This is always a welcome surprise in London. A lot of these houses are semi detached or detached with side access, which is also a benefit (especially for us with a very muddy dog so we can take him straight round to the garden instead of traipsing mud through the house and I'm thinking that when Mimi has a bike and stuff like that this will be useful too).
7. Good condition
Generally speaking because 1930s houses are younger they are in better condition than older houses and fewer unpleasant surprises are lurking under wallpaper and floorboards.
Realising the potential and finding inspiration
Now, obviously all of the points I have made here are generalisations as some older properties are completely wondrous and tick every box going and some 1930s houses are horrid but if you are house hunting it's worth just having a think about these things. I was recently asked how I figured out that I could make a 1930s house into a home that would suit us and where I found inspiration for our plans for the house. Therefore, I have made a list of what I did to help convince myself that my pebble dash house could be a dream come true…
8. Play the Rightmove game
If you find a house of a period that you are not used to and want to explore what you can do to it to make it suit you and your family get on Rightmove and have a look at neighbouring houses. Select the 'Nearby Sold Prices' option and nose around the street to see whether you can extend, what the house looks like all done up, whether you can change the layout and so on. This is invaluable info. I also looked at the satellite images to get an idea of how many houses in the street had extended outwards and upwards.
9. Knock on doors
It takes a bit of guts but knock on neighbours' doors if you want to see the potential of a house you are looking at. Alternatively, have a good nose through neighbours' windows (I totally did this and got a good idea of how the space would look open plan).
10. Visit friends
If you have friends that live in a house of the period you are considering go and visit them and get a good feeling for the house and space. My bezza moved into a 1930s house just up the road from us about two months before we bought our house so it was a brilliant opportunity to figure out how the house would work.
11. Pinterest and Houzz
Do use the internet for inspiration and find houses that are similar to the one you are looking at as this can be an invaluable source of inspiration for decor. I found articles like this one helpful when I was looking.
Be open to different styles and types of houses if you are searching as you never know what may work for you.
Katy x
P.S. Let's all be clear that our new house is about a tenth of the size of the houses above and won't even have a proper kitchen to begin with 😉