Another season, another room makeover! This time I wanted to tackle my bedroom but it's not so much a makeover, as more of a spruce up and de-clutter. To me, my bedroom was feeling heavy, dark and full of stuff and it was the last room in our flat that I would want to spend time in so it was time to rip up the carpet and get out my trusty Farrow and Ball floor paint. Here are the changes I made:
1. Painted the MDF boards under the carpet with Farrow and Ball All White floor paint (find out how I did it here). I also used Farrow and Ball's wood floor primer and undercoat, which makes all the big difference to the quality of the finish and how long it will last.
2. Gorgeous new Lazy Linen bundle and a dusty pink linen Scrunch cushion from Loaf.
3. Hung a beautiful brass Bloomingville hanging flower pot holder from Out There Interiors, inspired by Urban Jungle Bloggers.
4. New bedside lamp from Occa-Home.
5. Painted the wardrobes white.
6. De-cluttered the top of the wardrobes as they had become a storage dumping ground and moved more plants up there.
7. New jute rug from Heal's.
8. Completely cleared my dressing table and all the pictures around it, which feels soooo much better.
9. Sheep skin rug and House Doctor vase from Holly's House.
10. House Doctor jug vase and Bloomingville pink vase from Royal Design.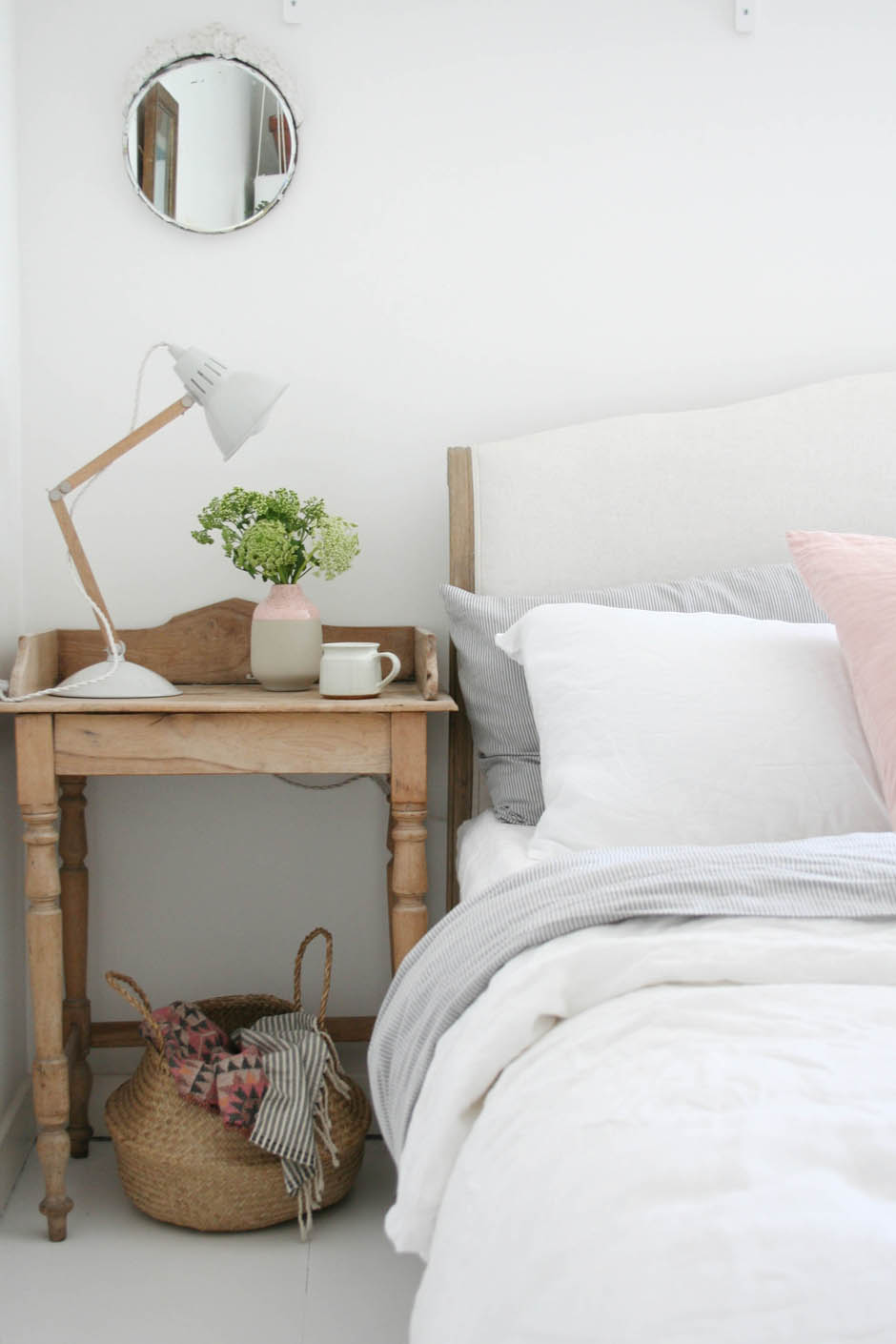 I know it's not a radical makeover in the same way as my office or hallway, but this room now feels so much better, which is the most important thing. I know it may look very bare to some, but I love the simplicity of having so few things in this room, especially as it is where we sleep. Over time, I will add more artwork and I'm sure other bits and bobs will creep back in and there are still a few things I need like a lamp shade for the main overhead light. For now, I'm really enjoying how bright and uplifting it feels, especially with all this sun that has been streaming in and bouncing around the new white floor (my favourite thing about the room!). I hope you like it.
Katy x
P.S. You can buy a lot of the lovely items I have chosen for my bedroom right here…
*This post was written in collaboration with Farrow and Ball.