I often get asked where I find interiors inspiration and there is a great source that I always forget to mention, which is holiday homes. I'm pretty sure I have said this before but accommodation is always one of my top priorities when planning a holiday because interiors is what I love. Being in a lovely cottage, a beautiful hotel or a rustic villa makes my time away so much more special than staying somewhere generic. I love exploring a new interior and dreaming up ways I can recreate the look at home – I find it really inspiring.
This summer we have had a lovely break in Norfolk with friends but I don't think we will manage to get away just the two of us so I am having to make do with swooning over the most beautiful holiday house that I have found on Unique Home Stays +44 (0) 1637 881183 and I also recently saw it on Helen's beautiful Instagram after her recent stay. So much inspiration to be taken from this fresh, simple, natural interior of this gorgeous Cornish coastal home, Delphin…
White clapperboard coastal houses are my absolute favourite, reminding me of little New England towns that I would like to visit one day. I love the light and space of this home: filled with white walls and limed floors with more than a touch of Scandi design. Look at that view!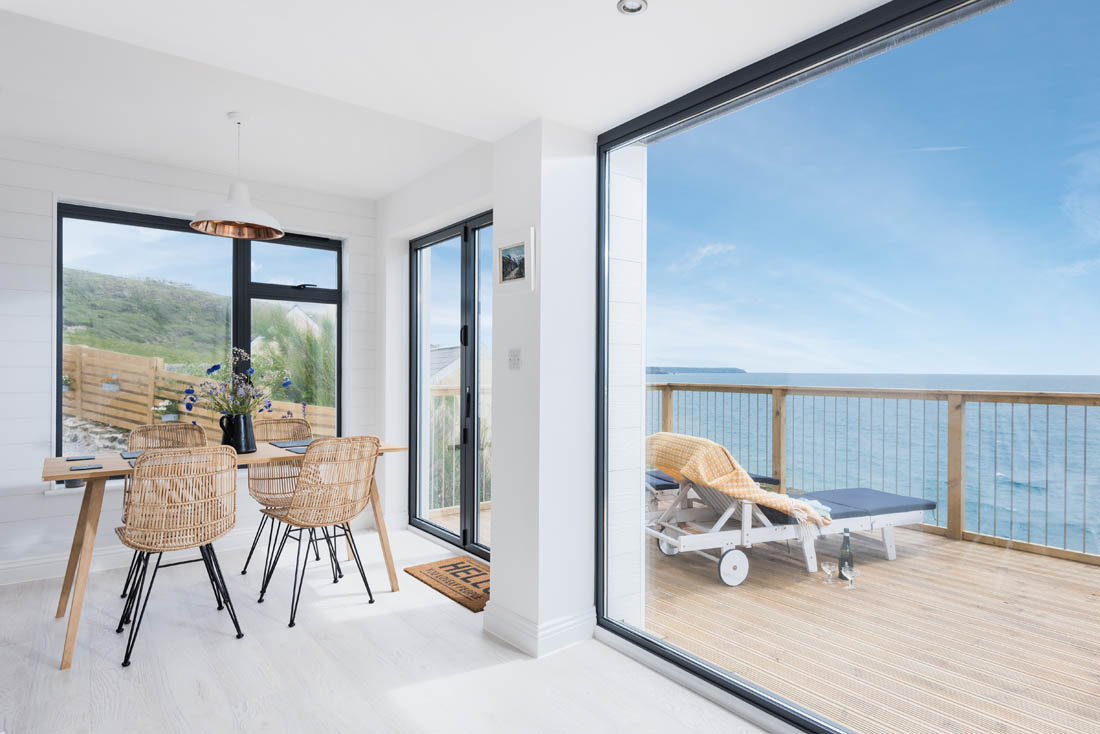 The clever use of natural materials for the dining chairs, kitchen stools, shelves and jute mats bring a bit of warmth to the white interior and help to bring the beautiful outdoors in.Wouldn't you love waking up to this kitchen on holiday?
The design  of the house makes the most of the gorgeous natural light; everything being focused around the picture windows and nothing blocking the view. A few home comforts for chillier days make this the perfect all year round home.
A touch of blue in the bedroom reflects the colour of the sea and you can enjoy the views from all rooms, including the lovely outdoor space.
Isn't it dreamy? I'm pretty sure I would return from here and have to recreate the exact look in my own home!
Have a lovely weekend, everyone. We are on major wedding prep here – wish us luck!
Katy x
*All images with kind permission of Unique Home Stays +44 (0) 1637 881183