I've been meaning to write in more detail about the renovation process but haven't really had the time until now. I often get messages from people who are about to start the process and they have lots of questions, as I did before we started our renovation, so I thought it would be helpful to write a series of posts dedicated to the subject.
This may not seem like the natural way to begin but I wanted to tell you about five things Jules and I really struggled to agree on during our renovation I guess because they have really stuck in my mind because of the arguments!
Replacing picture rails
Believe it or not this was our biggest point of conflict. We had to have the whole house re-plastered so the original picture rails were removed. We had accounted for replacing the skirting and architraves but forgot about budgeting for the supply and fitting of picture rail, coving in the living room and adding a dado rail in the hallway. These three things would amount to £950. Jules was adamant that this was a waste of money and that we could do it ourselves at a later date and in fact he still thinks it was a waste of money. However, it was something I felt very, very strongly about. We had lived in a new build flat for about eight years and we made a conscious decision to buy a period home and I felt it was really important to salvage or replace period features as otherwise this house could very easily have felt completely soulless and once inside you would never have known it was a period home. And yes, we probably could have done it ourselves at a later point (the materials needed are not massively expensive) BUT I knew full well that that would never, ever have happened as we don't have the time or energy. So yes, I can see why some people would see it as a very unnecessary thing to spend that amount of money on but for me it was crucial to making this house feel the way I wanted it to. Anyhoo, cut a long story short and I won the argument and Jules still resents it!!
Radiators
When it came to our building quote the building materials and labour were fixed costs but we were responsible for choosing and purchasing top coat paint, radiators, bathroom suite, tiles and underfloor heating. Therefore, we had the ability to reduce our costs by choosing the cheapest of these items. However, I felt very strongly that it would be very wrong to choose ugly radiators just because they are cheap. I knew that all of the radiators had to be replaced and I knew that they would be positioned under the windows in most rooms in full sight and I hated the idea of saving a couple of hundreds pounds and having to stare at them for the next however many years knowing they could have been a lovely feature instead. I insisted that we got traditional column radiators and we are both very glad that that decision was made now as it does make a huge difference to way a room looks and feels. Also, we bought them in the sales so they didn't end up being ridiculously expensive – they are these double panel colosseum column radiators (the one below was painted by our decorator).
Front door
From the moment I viewed the house I said we had to change the front door as that and the windows were the only original features that had been replaced over time. I could deal with the uPVC window frames (and there was no way we had the budget to replace them as they worked perfectly well) but the front door was ugly, blocked out a lot of light and it doesn't feel particularly sturdy. Let's be frank though, it was the ugly thing that bothered me most! Jules was very pragmatic about it and insisted it was just an aesthetic issue and there was no way of justifying replacing it. I soon accepted that our budget just wasn't going to stretch to it and our builder confirmed that it would be an easy enough job to do at a later date was it doesn't really affect anything else – it's a nice neat job that wouldn't require ripping up any other work we had already had done. We actually got a quote for it relatively recently but unfortunately we had to buy a new car so the money allocated for the door went on that instead. I have to say that I'm kind of glad we haven't had it done as I now see that money spent on the garden will be far more beneficial to our quality of life. However, painting the door the uPVC has made it look so far better! I wrote a blog post about how to paint uPVC if you need more information.
Fireplaces
Jules and I were both in agreement that the two original 1930s fire surrounds needed to be removed as the tiles were chipped and they were really not our style. Jules just wanted to plasterboard over the chimney breasts but there was no way I was letting that happen for the reasons I explained above about making the house feel like a period home. Not only did I want to replace one of the fire surround downstairs but I also wanted to add fireplaces into the bedrooms as we uncovered the original hearths when we pulled up the laminate flooring and I knew that the bedrooms would look so much better with a bit of character. To appease Jules I made sure I sourced fireplaces very cheaply from eBay and I agreed we wouldn't spend money on a wood-burning stove for the living room any time soon. Compromise, compromise! I hope you agree that the fireplaces I sourced definitely add a lot to each of these rooms…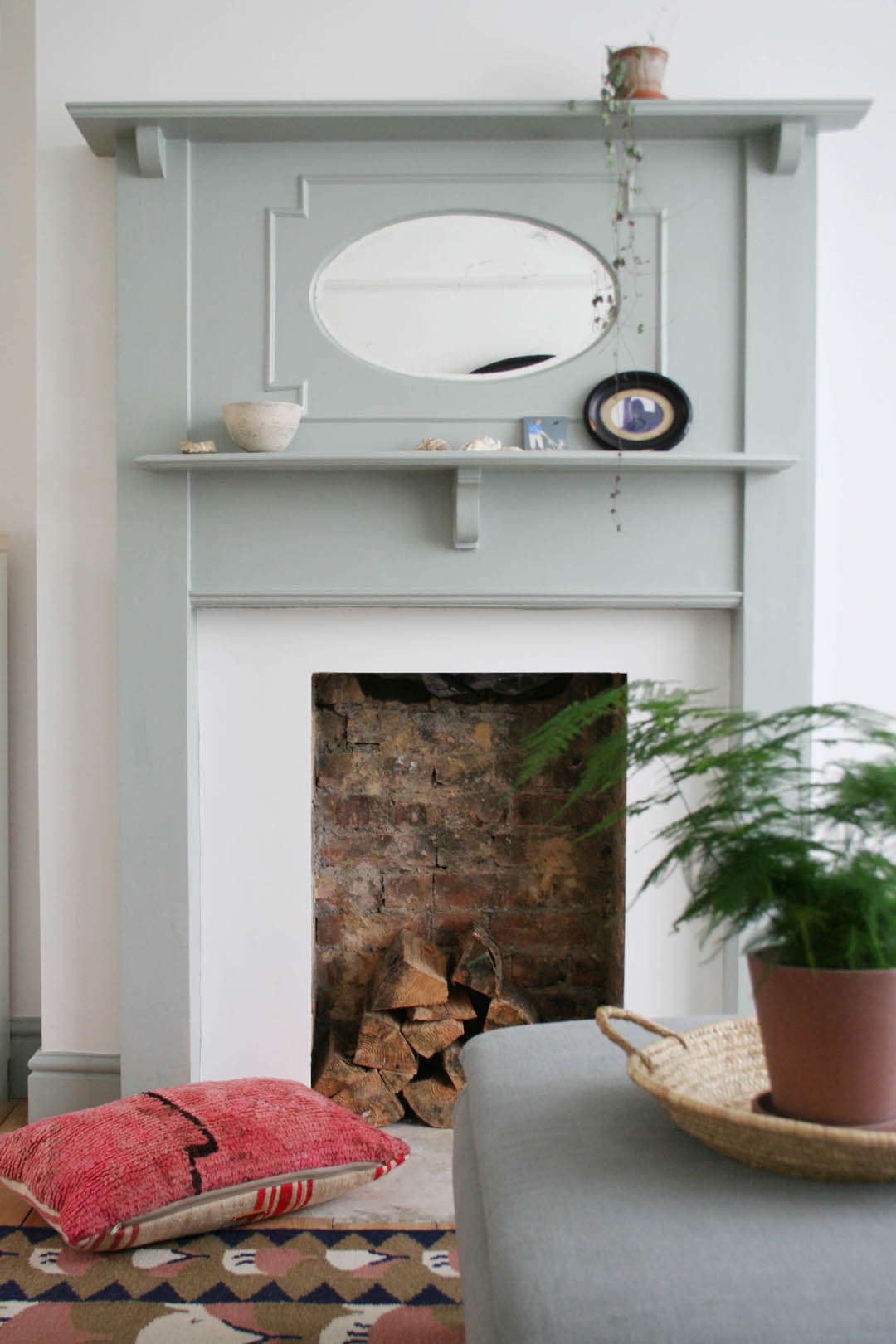 Re-sanding the floors
There's a very long story to the sanding of our floorboards (I'll do a separate post about what we did as I get SO many questions about it) but to summarise Jules was so over the whole thing by the time it came to finishing them. He set off one weekend to start the oiling and sent me update pics – remember we were living at my sister's during the renovation so I usually had to stay behind with Mimi who was at the 'trying to kill herself' phase so a building site was most definitely not an easy place to take her. By the next morning when the finish was dry on the first room he sent me a picture and I was horrified! It looked purple! In my mind there was no way we could keep it as it was but Jules was so worn down by that point he couldn't even consider having to re-sand and then re-finish the floors. Deep down he knew it didn't look right but he really didn't have the time or energy to do it all again so we ended up handing over the job to our builders -.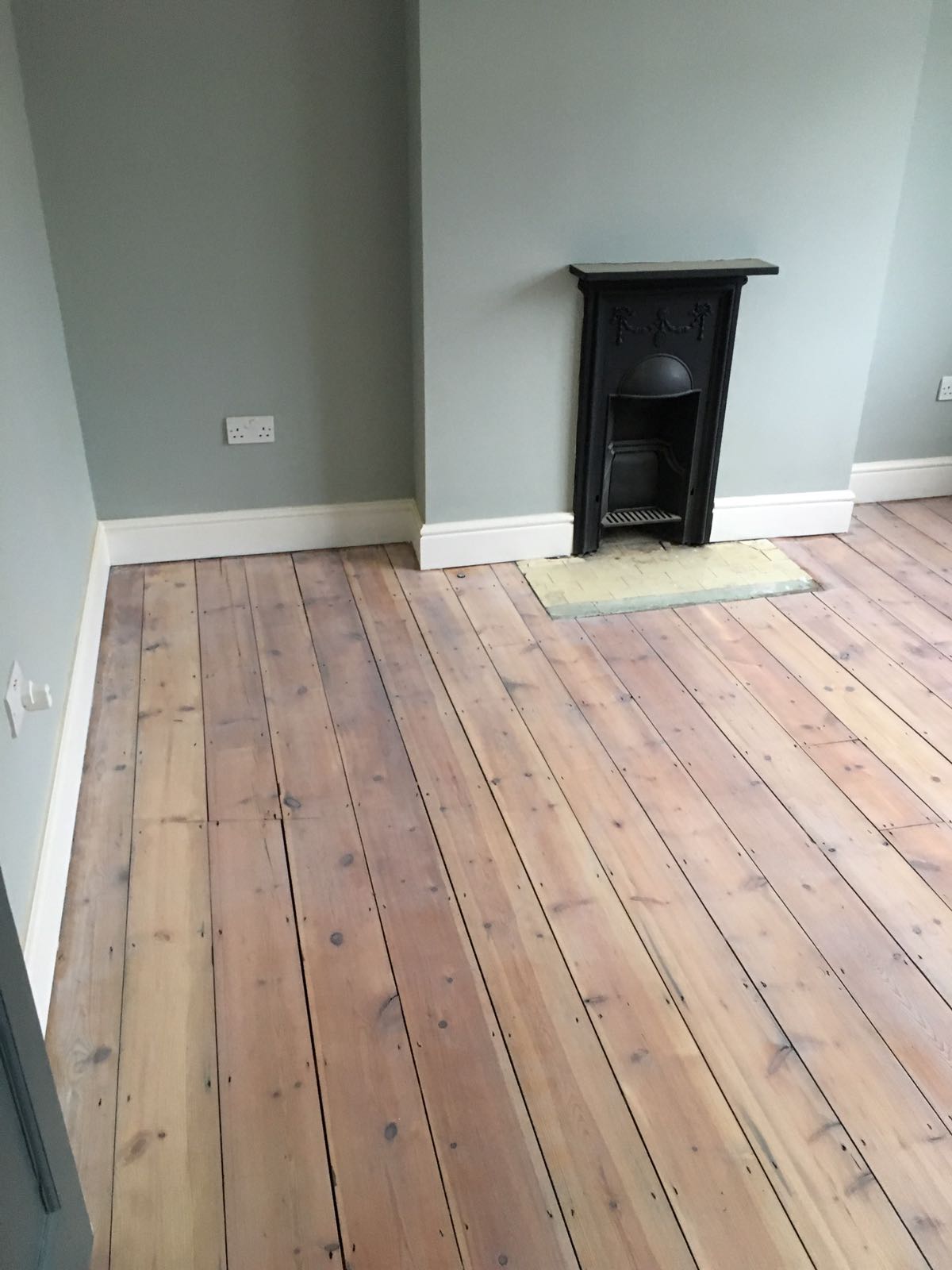 I think we did relatively well only having five arguments during the renovation – haha! I hope I don't make it sound too fraught as I'd say we had a really straightforward experience with no major stresses or strains. As I said I will follow up with some more details about the process – if there is anything in particular that you would like to know let me know via email or in the comments below.
Katy x