I asked whether this would be a useful post over on Instagram and the answer was a resounding yes. It seems to be a very common issue, no matter the type of flat or house. I count myself extremely lucky having a wider than average hallway and I can honestly say it is a complete game changer compared to homes I have lived in before this one. I recently did an interiors consultation for a family who live in a five bedroom house but their hallway is the width of the front door and it was driving them all mad so we really focused on how to solve the storage issues that come from having an extremely narrow hallway.
Obviously the decor of a hallway has a huge bearing on how it looks and feels but I won't be focusing on that here other than to say that the lighting is absolutely key to how well a hallway works. If it is badly lit and gloomy it makes functioning in the space so much more difficult i.e. not being able to find shoes, keys, tie laces, see into bags etc. I would say that the first thing to do is really assess your lighting and whilst you don't want it to be harsh and too bright as that feels unwelcoming, you do need to have a well balanced, even lighting from different sources – a pendant or two combined with wall lights is ideal (make sure they are on different circuits so you don't have to have them all on at the same time as sometimes in the evening, for example, it's nice to have lower lighting for just passing through the hallway) or a table lamp if you have space for a table and don't have wiring for wall lights. A dimmer switch for hallway lights is also a good idea to help change the mood of the lighting.
So, moving onto the storage issues…
Coats and bags
Do try to remove as many coats and bags from the hallway as possible – whether that be storing winter coats in wardrobes (vacuum packing is good for big bulky coats) during the summer and vice versa or if you live in a house what about using landing space at the top of the first flight of stairs? If you have to hang coats and bags in your hallway then a high peg rail is what you need. Try to make it as long as possible to space the coats out so they don't become a massive bunch of coats that will cause an obstacle and get dragged off the pegs as you pass. Also ensure the pegs themselves really do hold the coats to make it easier to hang them and less likely that they will slip off. I love the bespoke rail that Hannah from The Otto House had in one of her previous homes that you can see below. The length of it means coats don't get bunched up and the shelf above can be used either to store bits and bobs or to display things to make the hallway look and feel more welcoming. Don't be afraid to hang coats over a radiator as this can actually be quite practical especially in the winter when coats are wet and soggy. Try Etsy for similar peg rails shelves. You can go for a bigger shelf if it is high as this won't encroach on the space but can be a very handy place to store things that aren't used everyday.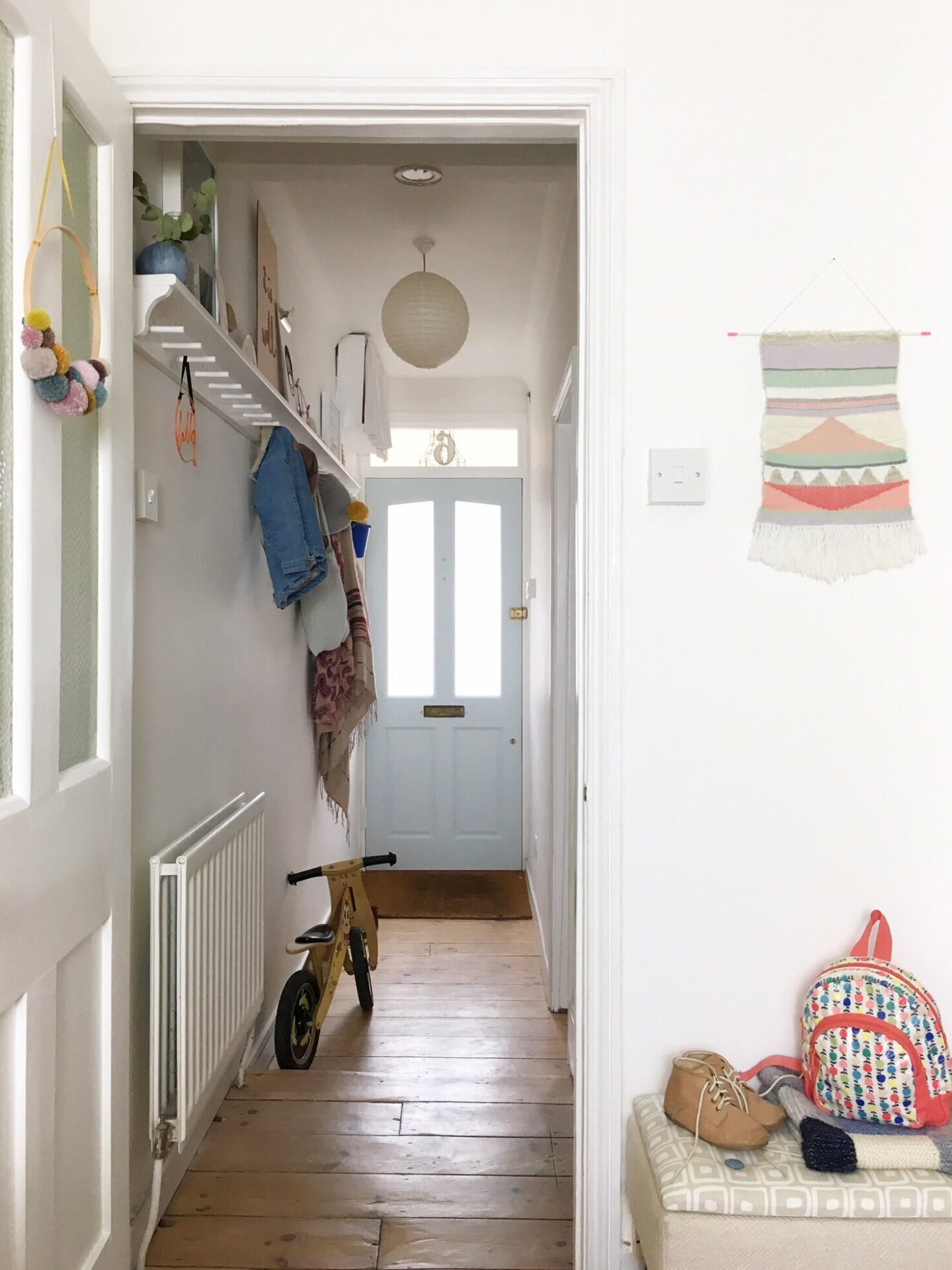 I have found that children's coats are much better hung up at their level so that they can be in control of them and because they are generally a lot less bulky they don't get in the way ion really tight hallways or knocked off their pegs even though they are at hip level.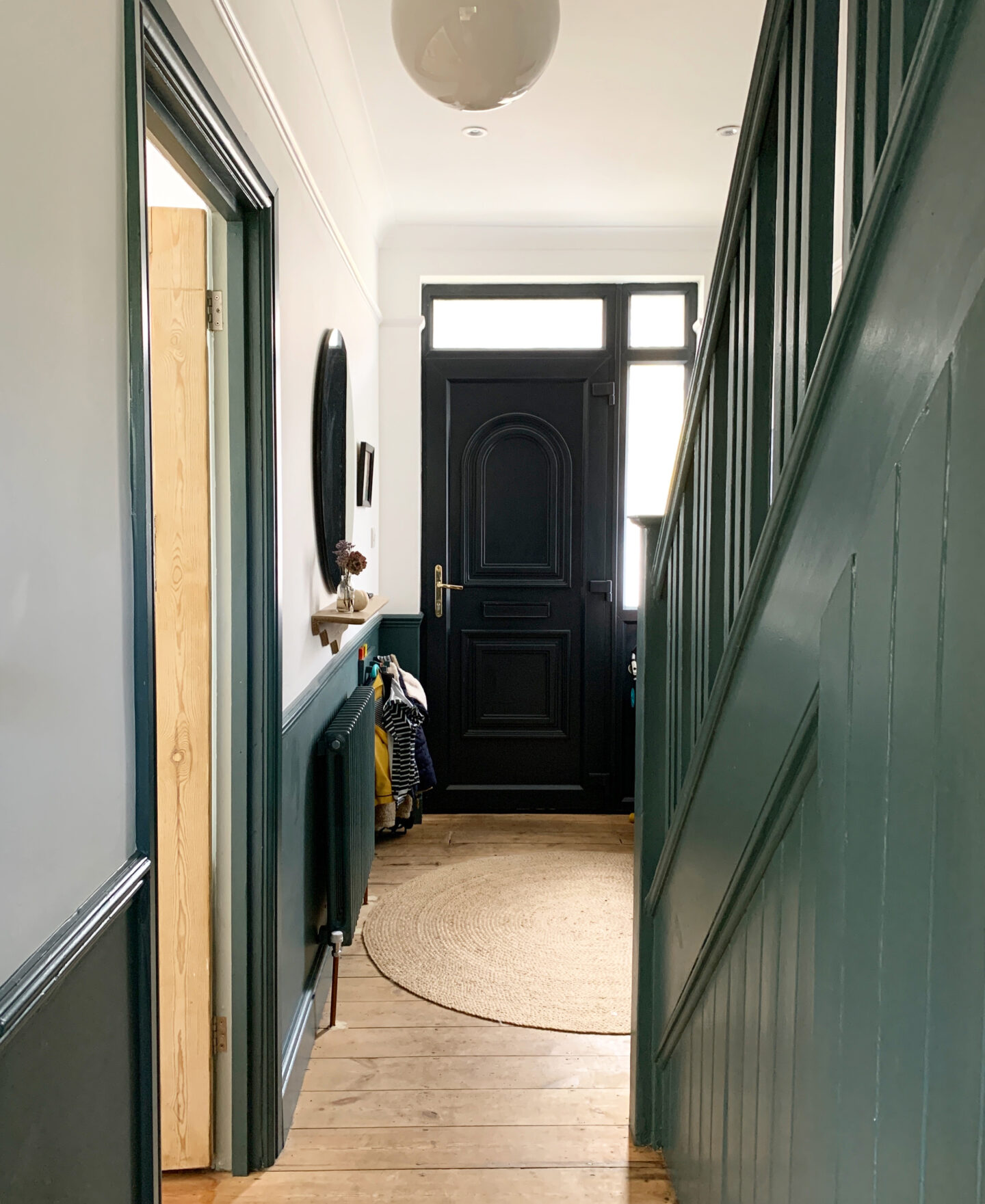 Shoes
Come to our house on any day of the week and the hallway is strewn with shoes. It is beyond annoying. Even a neat row of shoes against the wall is annoying, if you ask me. Shoe storage cabinets are really great for narrow hallways for every day shoes and slippers and they also provide a handy ledge for keys, glasses, face masks and all the other bits and pieces that build up in this space. We also make a big effort to keep shoes that aren't worn often in wardrobes and we often keep walking boots and wellies in the car.
The white shoe storage cabinets above are from IKEA (they do a couple of different models) and MADE make a blue shoe cabinet, which is nice. The image below shows another lovely version that is much more of a feature by MADE.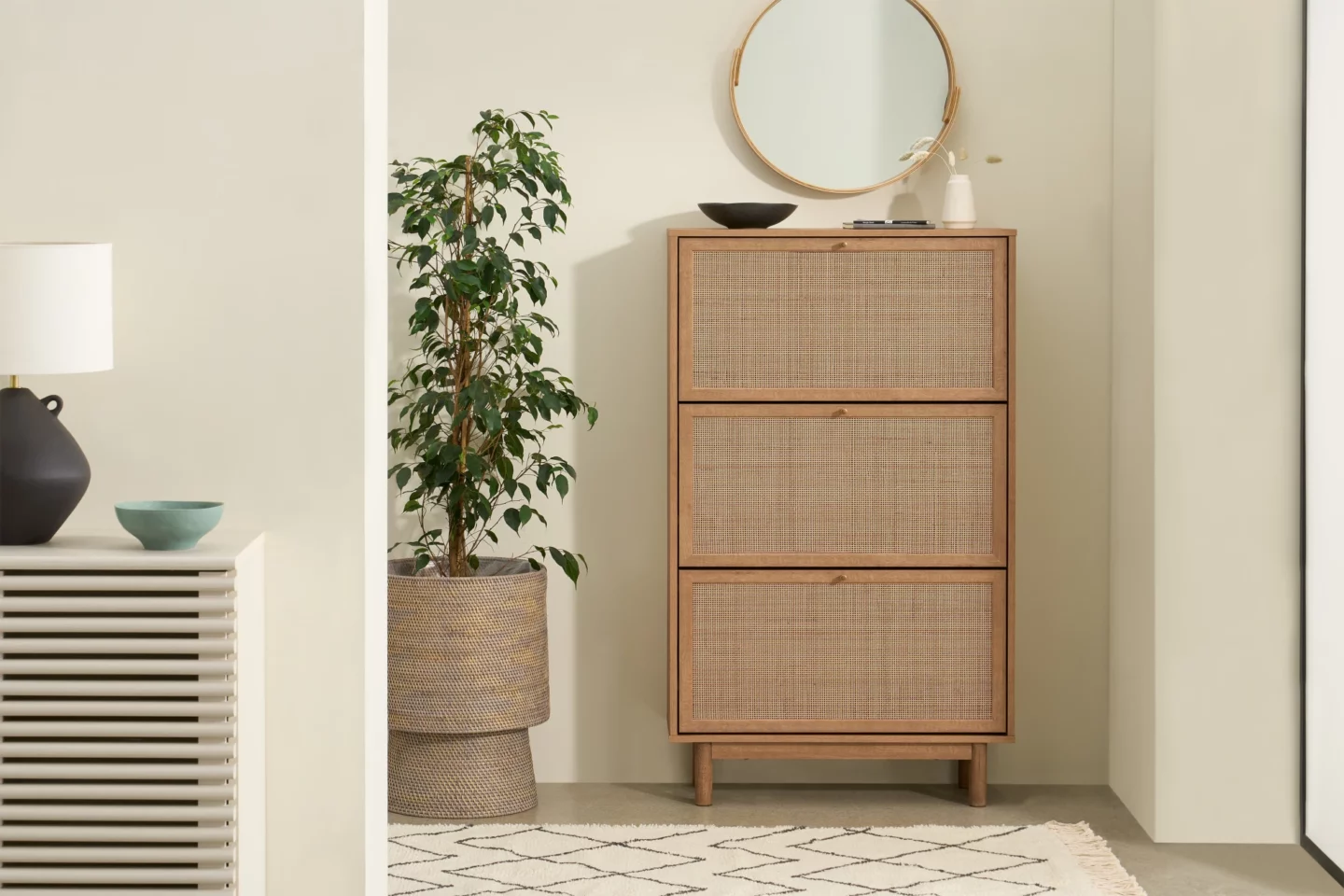 Hallway table
If you really need a hallway table or console there are some great options for very narrow spaces. You want the table to work as hard as possible so it needs to have storage as well as a surface so go for something with a drawer or a shelf below. This is a great example from Cate St Hill's lovely blog…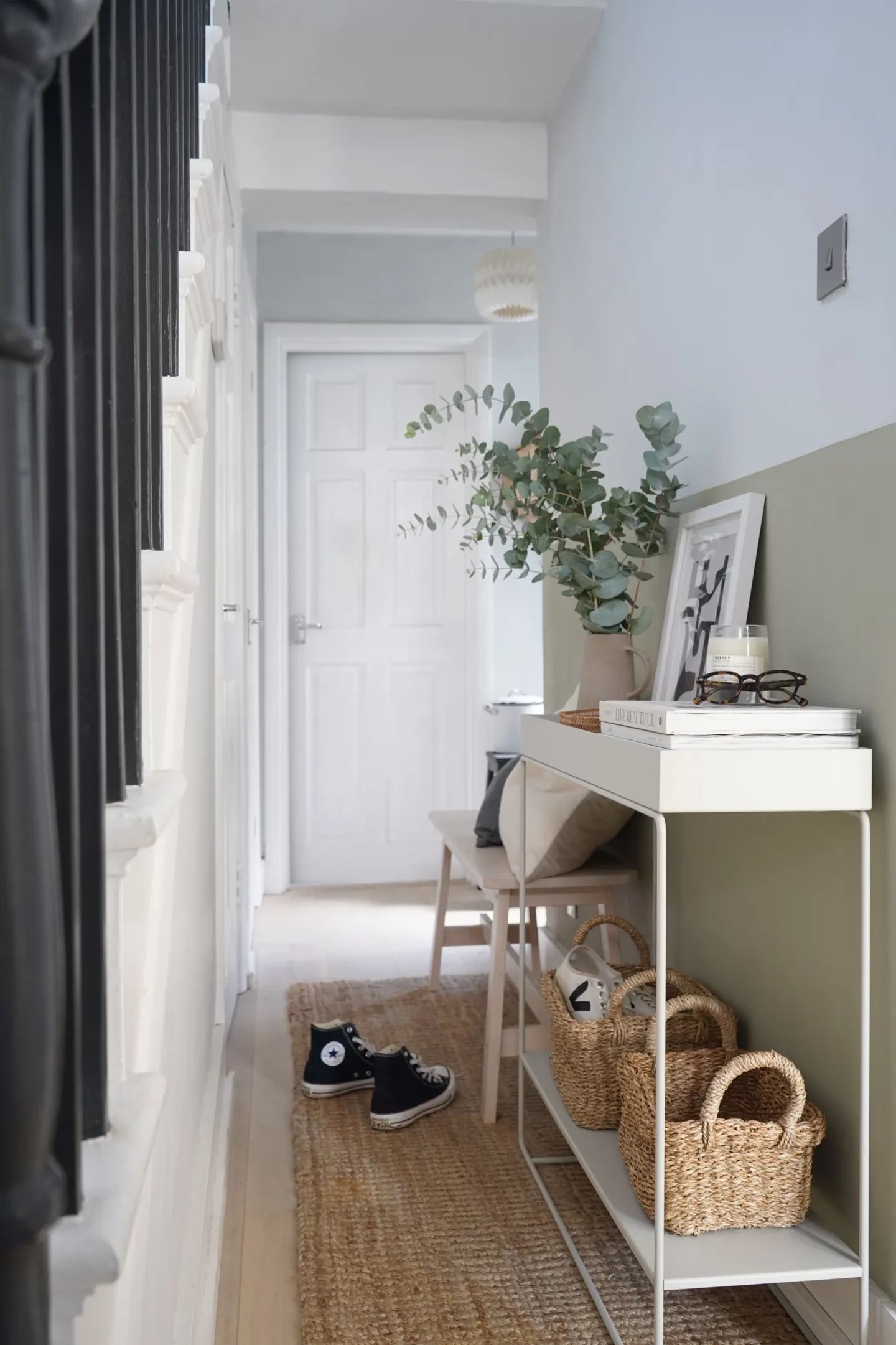 Not only is this Ferm Living console table very slim and easily pass-able but it offers a decent amount of storage on the top and bottom, especially with the tray style surface so things won't be knocked or dragged off as you pass by.
Another option that takes up the smallest space possible and can be used over a radiator, if needs be, is this Urban Size console table with a peg rail below.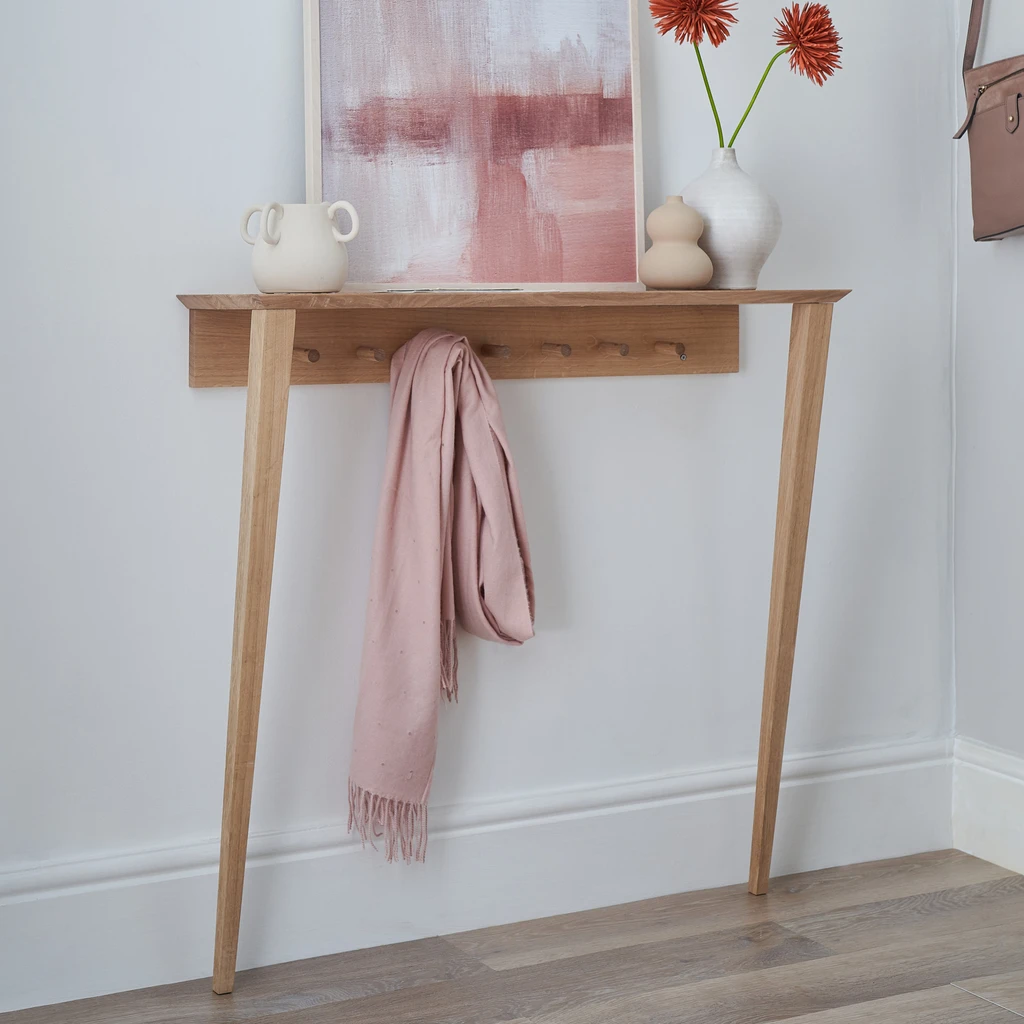 Seating
It's impossible to add seating into some hallway spaces due to radiator or door placement but it can be done even in the narrowest of spaces. It seems like the ultimate luxury to me to be able to have a seat in the hallway and I have decided that it is a real priority in our hallway to make the most of a wider than average space. We have had a make-do IKEA console that I got for free second-hand and painted for the last three years until we had the budget to finish the space and so now it is time to choose a seat to replace the console. My family is very kindly gifting me part of a settle bench for my birthday, which has just been. Much like hallway tables I think hallway seats or benches have to work as hard as possible and provide storage. My bench hasn't arrived yet so I can't recommend it but there are a lot of options for second hand settle benches if you are interested in one. The one I am getting is £375, so not cheap, but it is a very flexible piece of furniture that can be moved around a house and I'm pretty sure we will have it for years and years to come. I'm hoping we can store some shoes, woollens, bike helmet and picnic blankets in the seat. If you do a quick google and search for 'settle bench' you will see the various second-hand and new options.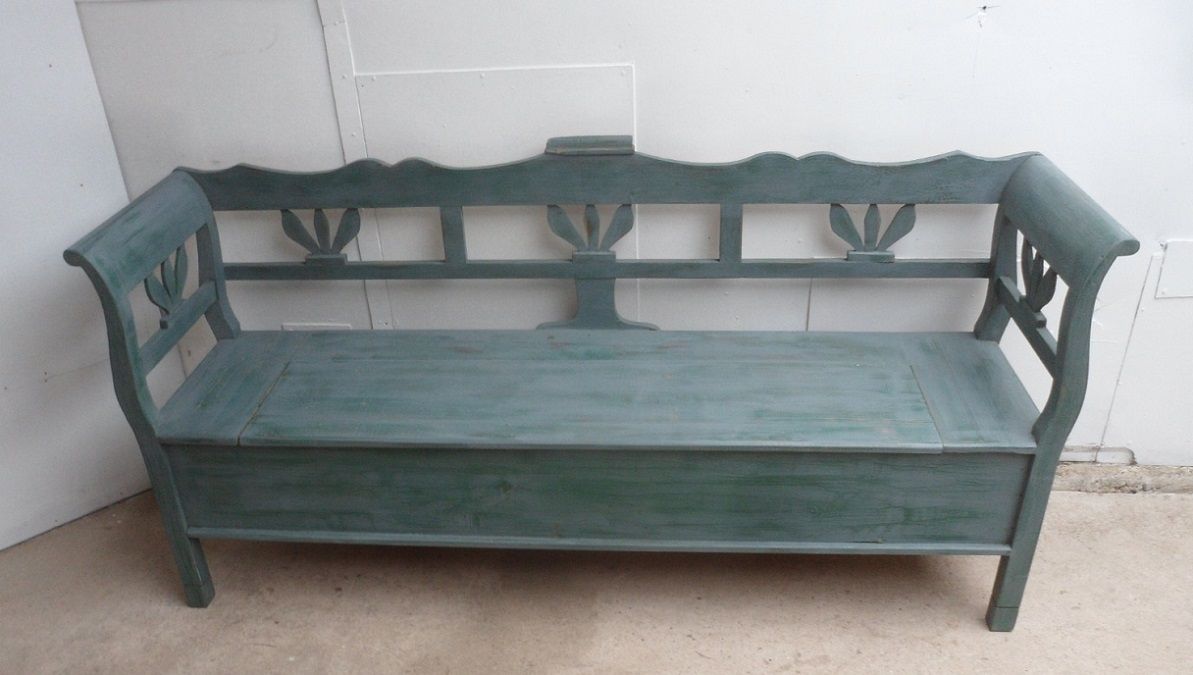 Another good option for a storage bench is the IKEA Stocksund model as you can see below. A lovely soft seat in the hallway with decent storage. Just bear in mind that textiles in the hallway are prone to getting pretty grubby but saying that Bemz design bespoke washable covers for IKEA furniture that are worth investigating.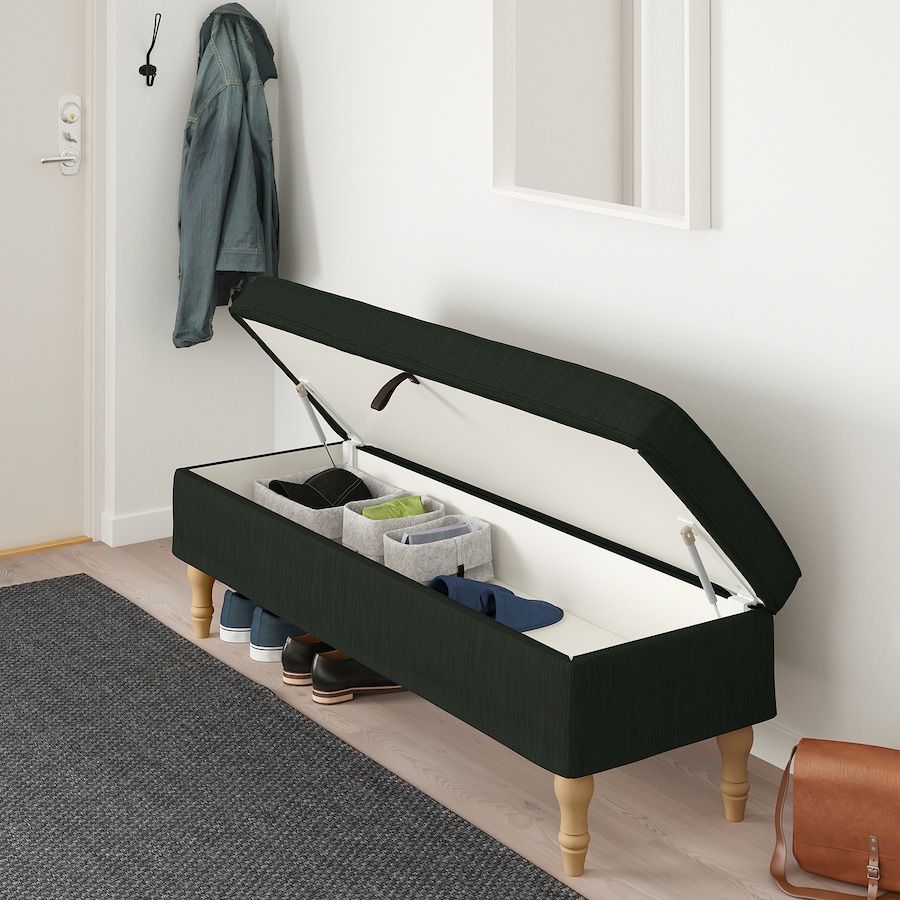 If you are tighter on space than the options above allow try a slimmer bench but still with potential shoe storage as can be seen in Jess's beautiful hallway below. This is a storage bench from MADE and fits in very neatly to a narrow Victorian hallway.
If you need something with even less depth and have more of an industrial style try a shoe bench like this vintage 60's one from Vinterior or a new version from John Lewis.
Ultimately, if there is any way of building a bespoke seat storage bench then that is the ideal option as seen below.
Buggys
If you are struggling for space and have a buggy to deal with every day there are a couple of options. I came across this buggy hook called a Strollaway, which would be ideal on an unglazed door. You would have to be organised about not storing loads of stuff under the buggy but worth it, I'd say.
Alternatively, and something I discussed with a client in a two bed garden flat with two children, is the option of wheeling the buggy through the flat and storing it outside in a dedicated shelter.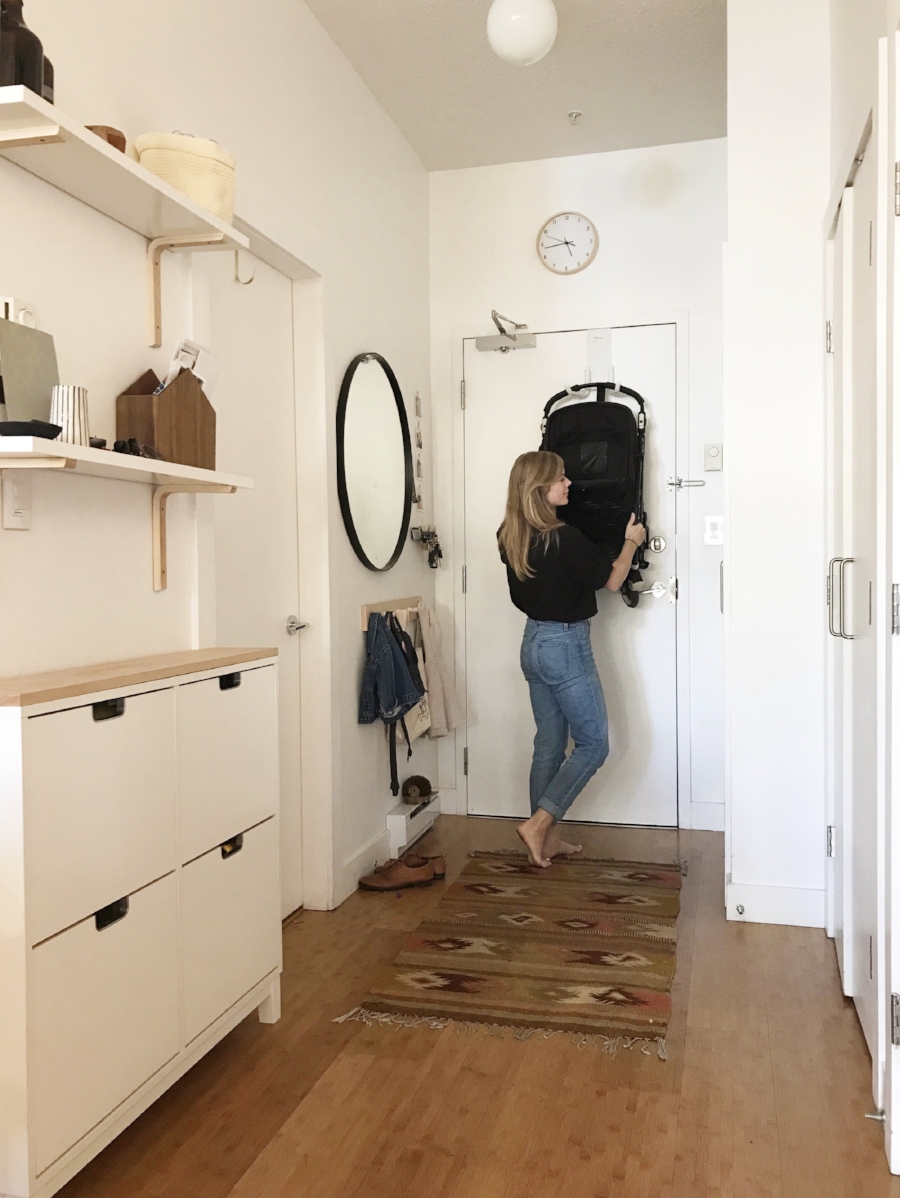 I hope some of those ideas help if you are stuck with how or where to store things in your hallway. I can't wait to show you my new bench when it arrives next month some time.
Katy x