Oh hello blog, my old friend. And hello, lovely readers! I am so sorry for being absent for so long – the last three months, since I blogged last, have flown by in a haze of running around after a very adventurous toddler and spending every nap time desperately trying to push the purchase of our new house through dealing with surveyors, solicitors, agents, builders and mortgage advisors. It was definitely not a straightforward purchase and after buying my previous two flats, which were both new builds and therefore pretty easy in terms of the conveyancing, it came as quite a shock to the system just how much time, energy and headspace this purchase would take. I immediately knew when I saw the house that it would be perfect for us and I was so invested from the first moment so when it looked like the purchase might fall through on a couple of occasions I felt sick to my stomach. This was the only house we could afford in Ladywell, which is the area we wanted to be in (as it is a probate property that needs renovation and therefore that bit cheaper than equivalent houses), so that really added to the stress levels. Also, my levels of productivity throughout the process fell to an all time low because I felt so stuck in the limbo of having no idea whether or not we would be moving on and whether we needed to pack up and I lost all pleasure in being in the flat because I wanted to be elsewhere. I have discovered that living in a half packed home is not good for my mental well being.
Anyhoo, the good news is that we finally completed the purchase last week and the sale of our flat went through really smoothly so it's all done! We can't actually move in to the new house for a few months as it needs to be completely renovated so we are currently staying with my very kind sister who is willing to put up with us all for the summer. Mimi is completely obsessed with her so she's very happy about the temporary move although Otto isn't quite so pleased and it seems like he's desperate to 'go home', which is making me sad. Hopefully he will settle down soon.
I'm hoping to be able to post here more regularly now that I HAVE A WHOLE HOUSE TO DECORATE FROM SCRATCH!!!!! It's actually too exciting for words. I will have my mum and sister on hand for a bit of help with Mimi so fingers crossed I will have more time to dedicate to the blog as up until now I have only had enough time for interior decoration projects with clients.
So, do you want to see this old run down house of ours that we have bought?! It's definitely not a looker from the street, that's for sure…
The house was built in 1929 and needs quite a bit of work to make it look nicer from the outside. It's never going to be a handsome house but that was a compromise I was willing to make as I think that everything else about the house will work for us. We don't have the budget to contract out any of the work to the outside of the house so anything we do will be DIY. I'll do a more detailed post about it but in brief we plan to paint the outside of the house white, build a new brick wall, tile the path leading up to the door, replace the side access gate, create a porch and use an original 1920s/30's front door and do some lovely planting to add a bit of green and colour.
The house has been rented out for years and years so it's in a pretty poor state. The plasterwork throughout is shot, the flooring is horrible cheap laminate sheets, the bathroom is in a horrid state and most importantly it is begging for walls to be knocked down to open out the small rooms. I love the proportions of 1930's houses as they are so square and the layout really works but this house is very small so we decided as soon as we saw it that it needed to be open plan downstairs. Here is the current floor plan:
I love the way the whole width of the back of the house opens out onto the garden and we plan to make the most of that in the future by building a glass extension but for the time being we will knock down the wall between the two reception rooms and the wall between the back reception and the kitchen.
This is what the front reception and kitchen currently look like:
The reception rooms have their original doors, coving and picture rails and lovely big windows so the house is wonderfully light and by knocking all the rooms downstairs together we hope to make it even lighter. I'll tell you more about our extension and kitchen plans another time as they won't be part of the first round of works.
In the future we will also do a loft conversion to make a really good sized master bedroom but for the time being we're more than happy with the bedrooms as they are. Having a third bedroom, albeit a very small one, will make a massive difference to us as it will give us the extra storage and a guest bed that we didn't have in the flat.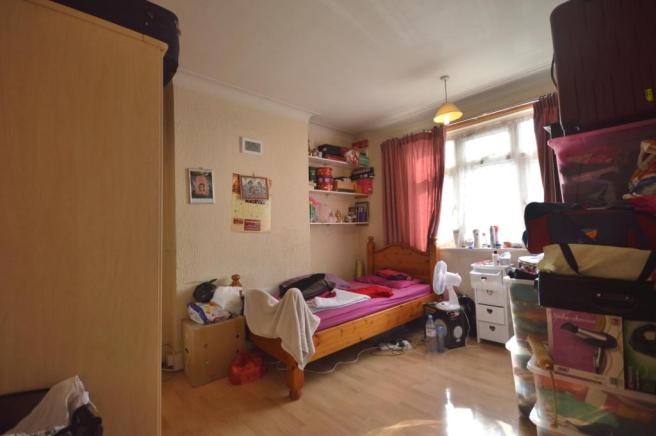 Upstairs there's also a bathroom with separate toilet and we plan to knock them together and completely re-do the room, which I'm very excited about as I have never planned a bathroom from scratch.
So, there you have it…a quick tour of our new house as it looked before we bought it. I plan to do some decorating and furnishing inspiration posts as well as detailed posts about some of the DIY jobs we will do that I hope will be helpful on a practical level. Let me know if there is anything particular you would like to know about that I can potentially cover during the renovation project. Our contractor doesn't start until the end of May but fingers crossed we will be able to move in by the end of summer. I'm so pleased to be back on the blog and look out for lots of new posts soon!
Katy x