I had such a wonderful day last week at Eltham Palace (you must visit if you haven't been before) for a summer party with The White Company. We were really lucky with the weather and managed to soak up all the beauty of the grounds accessorised perfectly with The White Company's fresh outdoor living accessories and fed and watered with the most delicious food by former head chef at river Cottage Tim Maddams and cocktails by 31 Dover.  We went on a tour of the gardens, all maintained exactly as they were in the 1930's – look at that Wisteria! – and learnt a bit of the history of the house with the head gardener, as well as learning styling tips for your summer table from interiors stylist Luke Batchleor. The perfect Friday afternoon.
The White Company's outdoor collection is based on their classic white palette with touches of grey this summer and everything works so well together, feeling as fresh and crisp as ever. One of my favourite outdoor accessories is this outdoor mattress; perfect for lounging around the garden on warm days and evenings. Oh, I am also desperate for these enamel lights – aren't they perfect?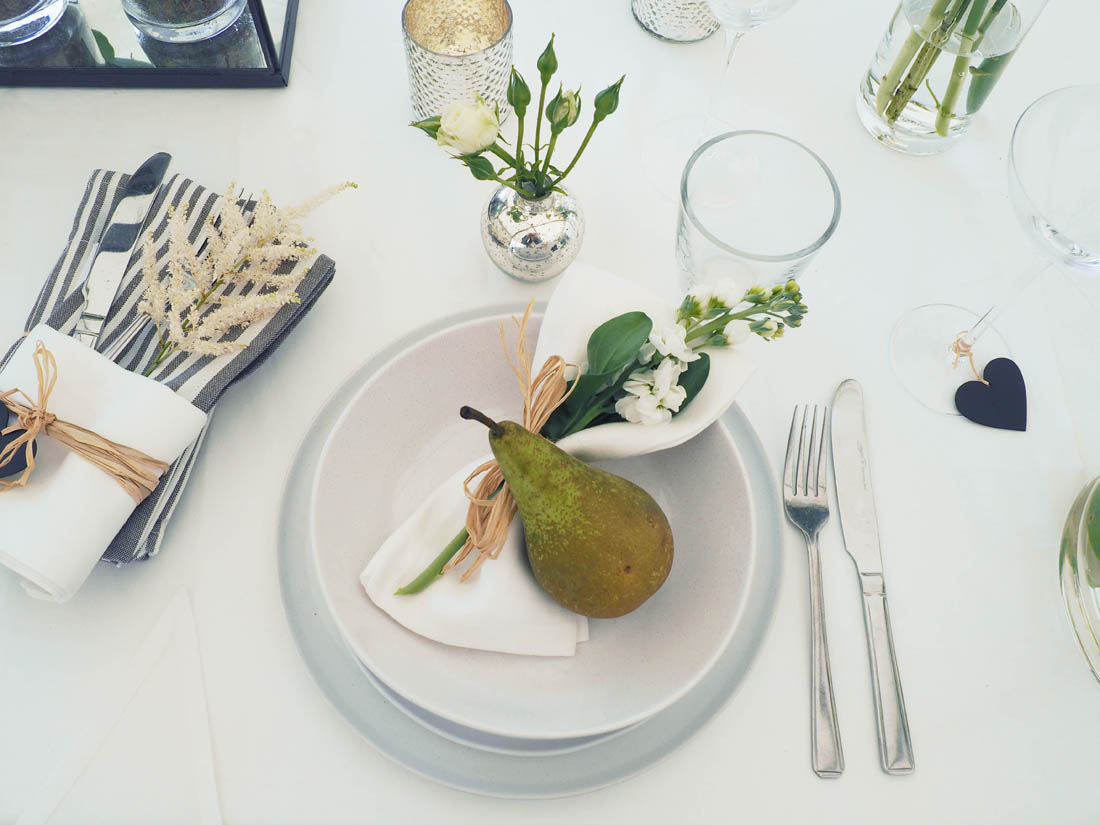 The gardens at Eltham Palace are stunning and we were there at just the right time to stare in awe at the mature Wisteria that draped so beautifully over the historical architecture.
How to create summer flavoured cocktails
31 Dover served up fresh cocktails and rose that afternoon and here are some yummy sounding recipes for us all to give a try at our own summer parties.
1 SUB-Lime
Inspiration – Lime & Bay fragrance
1 large or 2 small fresh bay leaves (don't even think of using dried ones) 1 heaped teaspoon of natural sugar
50ml Chase Vodka
25ml fresh lime juice
1 egg white, beaten 25ml sugar syrup
With a mortar and pestle grind the bay leaf with the natural sugar, until the bay leaf is almost powdered. Place in a cocktail shaker with the vodka, lime juice, egg white, and sugar syrup. Shake with ice cubes and strain into an ice-filled highball glass.
2 Seaside G&T
Inspiration – Summer fragrance
Inspired by the salty seaside, Edinburgh Gin's limited-edition 'Seaside Gin' features native Scottish botanicals foraged from along the coastline and include seaweed, ground ivy and bladderwick.The seaside really comes through in the London Dry style gin's green, grassy sweetness with a touch of coastal saltiness.
50ml Edinburgh Gin Seaside Gin 100ml Fever-Tree Indian Tonic Water Ice
Wedge of lemon
Build the ice in a highball glass, pour in the gin and top up with the tonic water. Add just a squeeze of lemon from the wedge and use to garnish.
3 Summer Boulevardier
Inspiration – Orange Grove fragrance (my favourite!)
The orange notes of the fragrance partner well with a Summer Boulevardier. Similar to a Negroni cocktail, the Boulevardier swaps gin for bourbon – which is a more earthy, darker spirit to complement the elements of Orange Grove fragrance. It's also a little more punchy for those wanting to make more of a statement.
Summer Boulevardier
1 part Campari
1 part Bulleit Bourbon
1 part Belsazar Sweet Vermouth Ice
Orange zest twist
Made for socialite Erskine Gwynne in Harry's Bar in Paris, the Boulevardier cocktail first appeared in the famous cocktails compendium, Barflies & Cocktails, in 1927. Easy to make, simply build the ingredients over ice, stir with a bar spoon and garnish with a twist of orange peel.
How to cook a BBQ feast
We ate the most incredible food that afternoon cooked by – it really was delicious – including fired salt pollack with bay, rosemary and chilli, with grilled asparagus and goats curd, lemon and mint and wood fired garlic flat bread. Yum attack!
Tim Maddems shared his tips for the perfect crowd-pleasing barbecue whilst cooking up a storm for us…
1. Preparation is key. Get your prep done before you want to start cooking. That includes making sure you have all the kit you need to hand, long-handled tongs, more charcoal, serving dishes, seasoning and oven gloves are all a must, but think about chopping boards and knives, and somewhere to rest meats.
2. You don't need any fancy kit, a simple kettle type barbeque will be fine for most things, make sure the grills are clean! However, don't be tempted to buy a gas barbeque – you might as well cook indoors.
3. Let your location do the talking. If you are planning a barbeque on the beach, serve fish, not chops and sausages.
4. Site your barbeque as near to your dining tables and kitchen area as possible, you don't want to spend all your time running back and fourth.
5. Don't use imported charcoal.You want coppice charcoal form a sustainable British source, there are lots to choose from, it get hot quickly and lights easily – what's not to like?
6. Light your fire in plenty of time, it will take a little longer than you think to be ready to cook on. Look for the flames to have died down and the embers to be glowing with a light covering of ash before you attempt to start cooking.
7. Have two different zones for your barbeque. I light the fire on one side and keep it going in there. As the embers spread to the other side I know where on the grill to cook, and can manage the heat, moving things that need to slow down to cooler places, and things that need a push to a hot spot.
8. Fat creates fires, so beware if you are cooking very fatty things they will cause the fire to flare up and often burn things.
9. Allow enough time! Don't try and rush a barbeque, it won't work, or if you need to avoid things that take time to be cooked thoroughly, like chicken and sausages.
10. Use aromatics to deepen flavour – for example, I often grill sardines or mackerel on the barbeque, and I always lay branches of fresh bay leaves over the grill first, to add flavour but also as its stops them sticking to the grill and makes them far easier to handle.
11. Avoid sweet, sticky marinades, on a hot barbeque they tend to burn and add very little to the end dish except bitter, burnt-sugar notes.
12. I like to use spices, oil and citrus along with fresh herbs to make up my flavour palate for barbequing. Make sure everything to be cooked on the grill is at an ambient temperature before it goes on – fridge- cold meat, fish and veg won't cook so well.
13. When the grill is too hot for cooking meats, fish, veg or cheese it's often perfect for getting some flat breads done. Serve these with a few dips as a quick starter that will help to take the edge of your guests' hunger, buying you time and providing tasty treats.
14. Be creative with your sides; simple but different salads are the way to go, combined with a carb-laden potato or pasta salad and some flat breads for those who like their meals heavy.
15. Relax and enjoy yourself, don't rush, its all about easy dining, there are no rules, if it takes an hour to cook a whole leg of lamb to perfection, then do so, simply cooking one great piece of meat and serving it with lots of prepared earlier side dishes is a great way to go.
A gorgeous afternoon and it's got me thinking that we must throw our own party this summer up on our roof terrace…
Katy x