A cliche, I know, but I have resolved to eat healthier food this year. In my house, Jules does the majority of the cooking but in his own words he is a 'recovering vegetarian', which basically means he is making up for not eating meat for seventeen years by now eating meat with every single meal. This causes a bit of tension between us because I'm not mad about meat and in many ways I think it makes our meals higher in fat and calories (plus I worry about the environmental and ethical issues involved in eating meat). Therefore, I have decided to take a bit more control in the kitchen and do the majority of the cooking this year. I am really pleased to be getting involved in the #EatWell campaign with Robert Welch this month and taking part in their meat-free Monday challenge – a gentle push for Jules to try more meals without meat and my chance to convince him that they can be delicious as I think he has suffered really poor vegetarian food made up mainly of wishy washy tomato based sauces and pasta with pesto.
I was lucky enough to be invited along to the Waitrose Cookery School last month with the lovely Robert Welch team, who supply the knives, cooking utensils and cutlery at the schools, to learn a new vegetarian recipe that was delish! It was also a really fun evening and I would definitely recommend it to anyone wanting to learn new recipes or it would be a great thing to do with a friend. You can enter to win a voucher for the cookery school here.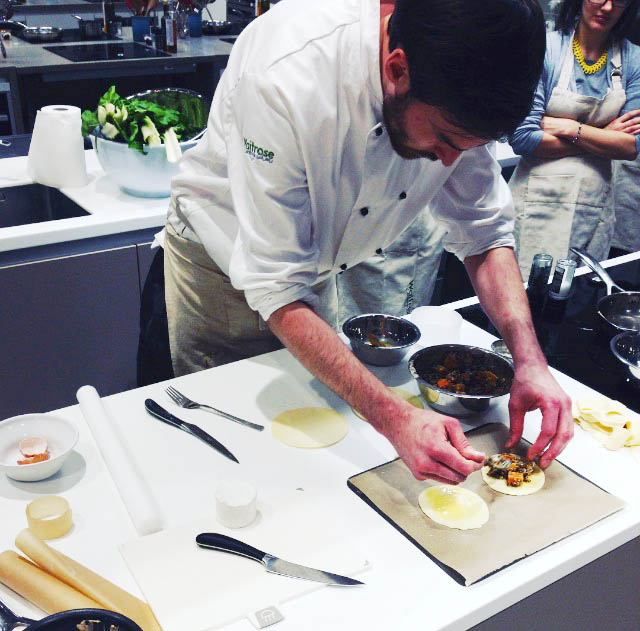 The chef at the school does a demonstration of the recipe and then you get to taste what they make. That evening we were making butternut squash, duxelles and goat cheese pies with a chestnut cream and seared lettuce – so yummy and I now want seared lettuce with everything!
We were then set loose in the kitchen and I partnered with lovely Holly who is running the #EatWell campaign for Robert Welch and we didn't do a bad job.
We then sat down together and ate the dinner we had made – such a lovely evening!
It inspired me to conjure up my own meat-free recipe (that was actually inspired by a beef recipe by Nigella Lawson that I made for a dinner party before Christmas and I used the same combination of flavours for the marinade). My best friend has also decided to go vegan so I had her in mind when I tried out this recipe.
This is what I look for in a healthy week night meal:
– it has to be quick
– not too many ingredients
– easy to source ingredients
– not too high in fat or calories
– I don't like using too many pots and pans (I hate too much cleaning up!)
My recipe for vegetarian Chinese pancakes ticks all of these boxes and and it is flipping delicious.
Ingredients:
(to make about 8-10 pancakes)
400g mushrooms – choose any mushroom that you like but you can't go wrong with bog standard button or chestnut
2 tbsp rice wine – you can buy this from any supermarket and it's a great thing to have in your cupboard for other Asian inspired recipes.
5 tbsp soy sauce
1 tsp five spice
1 tbsp sesame oil
To serve:
Chinese pancakes – I bought mine from Waitrose via Ocado and they only cost £1 for 10.
Lettuce – I prefer little gems or iceberg for this recipe.
Spring onions
Cucumber
Hoisin sauce – you will need about half a teaspoon per pancake.
Method:
1. Place the rice wine, soy sauce, sesame oil and five spice powder into a large bowl. Slice the mushrooms and add them to the marinade. Make sure they are all covered and then cook in a large frying pan on a high heat. You need to cook the mushrooms for a good ten minutes until the sauce and the liquid from the mushrooms themselves has gone and the mushrooms begin to dry out and caramelise. Take them off the heat at this point and they are ready to be served.
2. Slice the spring onions and cucumber lengthways and chop up the lettuce. Serve in individual bowls with a bowl of hoisin sauce. Heat the pancakes according to the instructions on the pack (usually just a few secs in the microwave).
3. On each pancake spread a thin layer of hoisin sauce, lay a few pieces of cucumber, onion and lettuce and then add the mushrooms. Roll it up and enjoy!
These make a great light evening meal or would be perfect for a dinner party starter. The best thing is that Jules was actually excited about trying them because they don't look like the bowl of 'vegetarian sludge' he often refers to. Will you join us in trying out meat-free Mondays? Do you have any great veggie recipe ideas? If you need more inspiration check out the Robert Welch blog for upcoming recipes and search the #EatWell and #RobertWelch hashtags.
Happy weekend everyone!
Katy x
P.S. All photos taken on my iPhone – I'm sure I've mentioned it before but cooking and photography don't mix too well in my world 😉