*This giveaway has now closed *
The winner is Lucy who was nominated by her husband, Anthony (all the heart eyes!). My romantic side got the better of me when I picked the winner – congrats, Lucy!
I know I go on a bit about my room makeovers but it's only because I get so excited about making a space feel like new, either with relatively small touches or much bigger changes. My living room makeover is very nearly done (still waiting for a couple of new pieces of furniture) and it has made my home feel like new. I am beyond excited about the fact that I can now offer YOU a living room makeover with the lovely folks over at DFS. Eeeek!
To celebrate International Women's Day, we would like you to nominate an inspirational woman in your life (whether it be your best friend, partner, sister, daughter, mother, neighbour) for the chance to win a new look for their living room. I have chosen four collections of furniture from DFS that I love (GIVE ME THAT PINK SOFA NOW!) and it was ridiculously difficult to choose just four – gutted I couldn't include this sofa too. The lucky winner can select the collection that they like best as well as sending me a few snaps of their living room and I will help them place the new furniture and suggest ways to make the whole room look better. Once the makeover is complete I will then post some photos of the new look room here on my blog.
Are you as excited as I am yet?! Check out the amazing sofas available at DFS – one of these could be yours…
Monocrome sophistication
I love the clean lines of this sofa designed by French Connection and the touches of black in the legs and cushions bring an air of sophistication. The bronze table frame adds a bit of glamour – I feel the need to be on that sofa right now drinking a cocktail!
1. Quartz chaise sofa in grey (size and shape of sofa your choice)  2. Swirl rug in charcoal 3. Opaque lamp table
Pink dream
This literally is my pink dream and I hope it is yours too! I'm imagining us all in a cottage somewhere with this beautiful Bailey sofa, footstool and an open fire – I mean, what else would one need in life? Keep this furniture fresh and modern with crisp white walls or soft greys, neutral flooring and dots of bolder colour from vases filled with flowers. Heaven.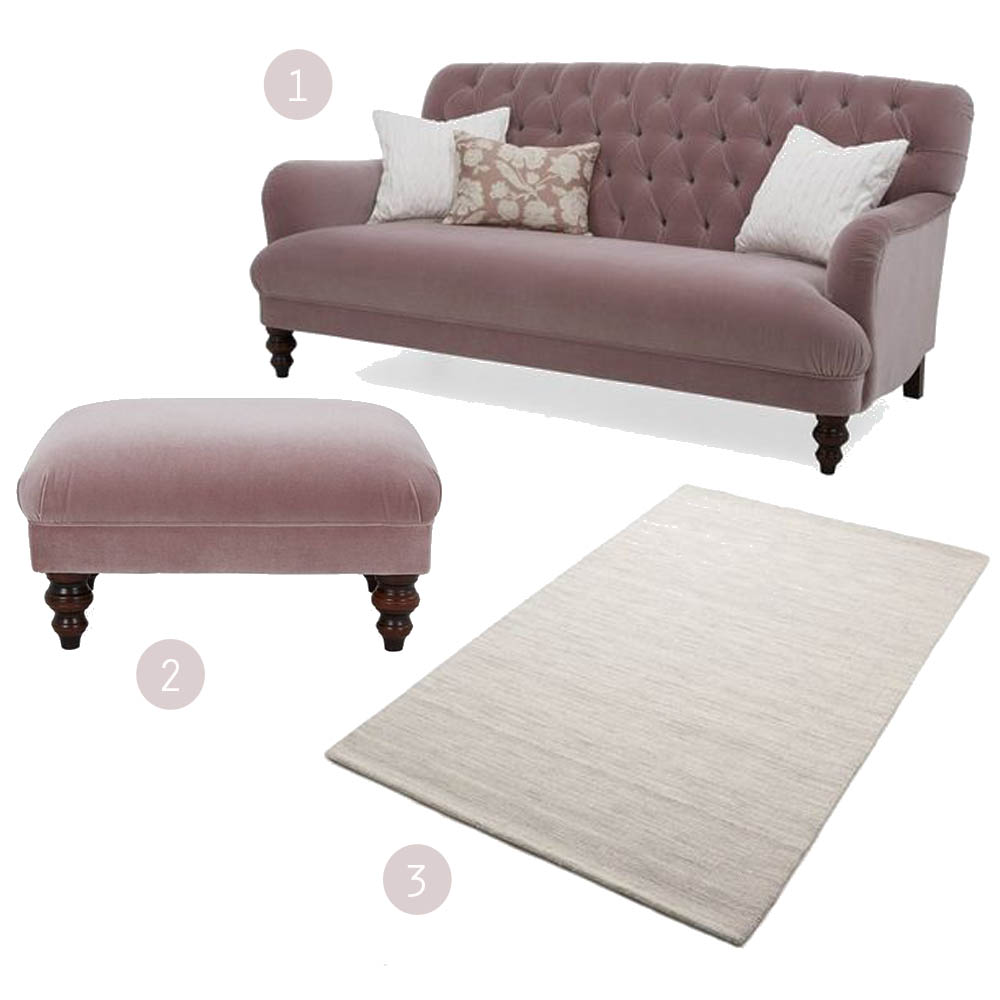 1. Bailey velvet sofa in dusty pink 2. Bailey velvet small footstool  in dusty pink 3. Blackford rug in sterling.
Mid century modern
Retro lovers out there this chaise sofa with mid-century style legs would be the perfect addition to your home. Combine it with pops of bold mustard, orange, green or blue and an original teak sideboard would finish off the look brilliantly.

1. Eiffel armchair in white 2. Zinc chaise sofa in grey with light legs (size and shape of sofa your choice) 3. Trio nest of tables 4. Wall rug in gold.
Coastal whites
For those of us who like to escape into white tranquility I have chosen this beautifully simple Slate sofa and armchair. I'm imagining a coastal feel in this room with lots of white, raw wood, neutral ceramics and wild flowers. You could also add an accent colour to lift the look – perhaps blue to add to the coastal feel.
1. Slate armchair in white 2. Slate two seater sofa in white 3. Swirl rug in bleach 4. Cabrilo lamp table
To enter
Decide who you would like to nominate (or ask someone to nominate you) and leave a comment on this post telling me why that woman is an inspiration to you and why you would like them to win a room makeover. I will choose the winner on March 22nd and announce it here on my blog. The winner will need to send me a few pics of their living room 'before' and 'after' because we all know how much I love those!
I can not wait to hear about the special women in your lives and good luck.
Katy x
*Thank you to DFS for collaborating on this fun project.
THIS COMPETITION IS NOW CLOSED! WINNER WILL BE ANNOUNCED ON WEDNESDAY 23RD MARCH.
T&C's
– Competition closes on March 22nd at midday.
– Open to residents of mainland UK only.
– The winner agrees to sending me pictures of their living room so that I can give them advice on ways to improve the room. They also agree to sending me a few snaps of the living room once the furniture has been delivered and the room makeover is complete.
-This prize is non-transferable and cannot be exchanged for monetary value; No cash alternatives to the stated prize will be offered.
– One nomination per person.