*This post is written in collaboration with Bemz – use code aptapoth25 for 25% off their entire range until November 25th.
I've already told you about Bemz who make covers for IKEA furniture as they gifted me a set of natural linen covers for my IKEA Soderhamn sofas back when we first moved in. The covers have been an absolute triumph not only still looking fresh and beautiful after a year of use but have withstood the bustle of our home and several washes (all of the covers are completely removable and washable at 40 degrees). What I love about my natural linen covers is that they are light, loose and floaty (they are the loose urban fit – you can see them in this post) and therefore perfect for the spring and summer. They have got many years left in them, I hope, but I've just removed and washed them all and packed them up in the loft for the winter because, very excitingly, Bemz have invited me to showcase one of their new fabrics on my sofas. I'm also excited to tell you that I can offer you 25% off their entire range until November 25th with code aptapoth25 – you've got to be quick!
I have chosen one of their new Designers Guild linens for the sofas in Brera Lino Pewter, which is a lovely soft blue grey that tones with our Light Blue woodwork so well. The Indigo Velvet cushions, another of their new fabrics, is the perfect shade to pull together the colours in my rug and our Railings kitchen at the other end of the room. The old set of natural linen covers pushed the room outwards and made everything feel bigger but these Pewter and Indigo covers do the opposite; they pull the room together and make it feel cosier.
The other big difference is that I have chosen the regular fit cover style and changed the feet from the IKEA steel ones (which I wouldn't choose to display as they wouldn't work in this room) to these gorgeous natural wooden ones by Bemz. I chose the simple Kastell tapered tapered wooden furniture legs for the two sofas and then the gorgeous Terence chunky wooden furniture legs for the ottoman. The addition of the warm wood and being able to see more floor space helps to keep the room feeling spacious at the same time as cosy.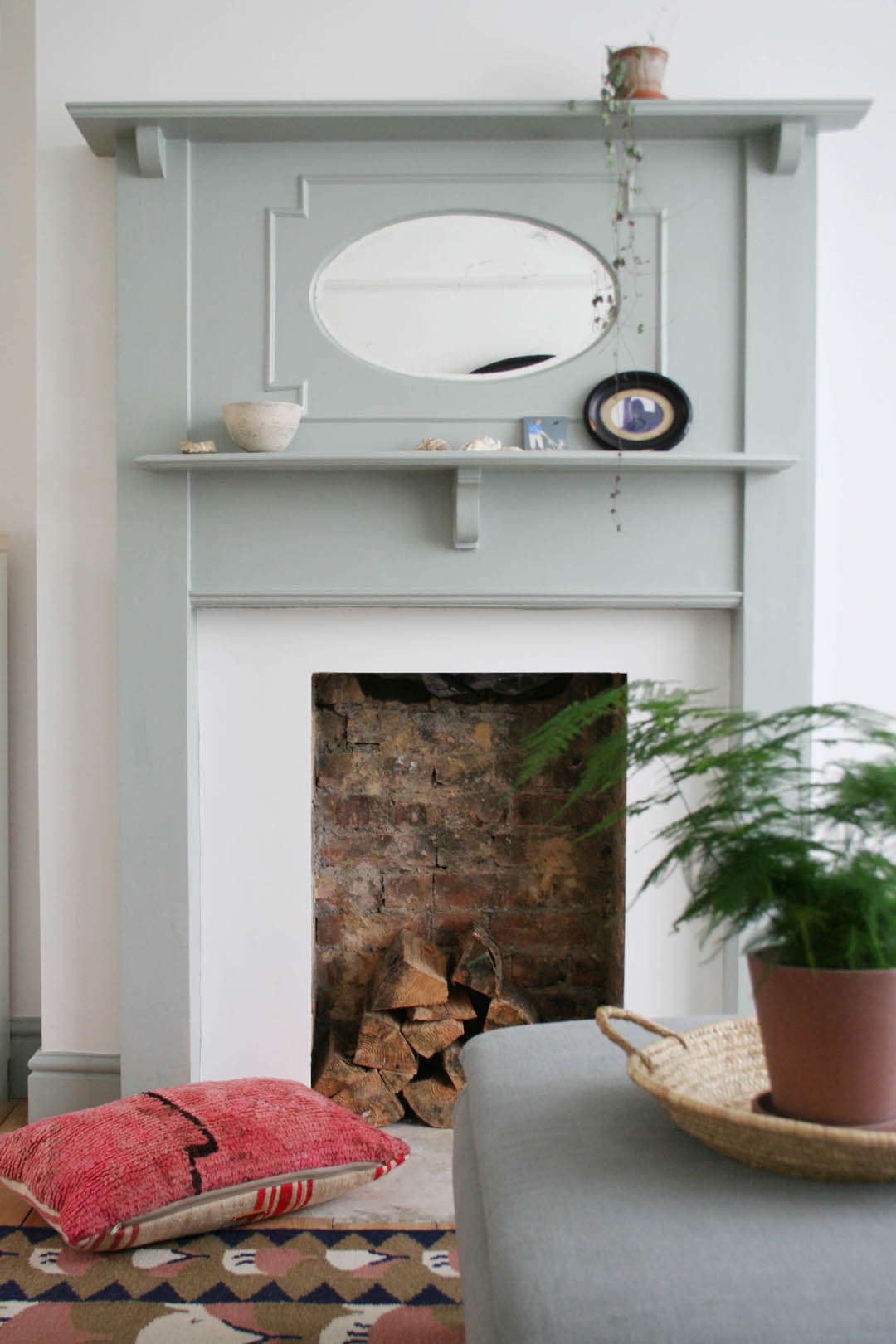 What I really like about the Pewter colour is that it's not too dark so it could also easily transition to Spring with a change up of the cushions. Also, it's relatively neutral so could work with lots of different colours (I've just designed a sitting room room for someone with a very similar colour sofa and Setting Plaster walls and it looks great!). It's a very adaptable colour. The linen itself is of a beautiful quality as you would expect from Designers Guild. It feels very robust and thicker than my previous covers so the texture feels more winter-like. With the added softness of the velvet cushions the sofas feel very inviting and ready for nights at home. The velvet is also washable, which blows my mind, as the last velvet armchair we had marked so badly that no one other than responsible adults were allowed near it!
I've combined these gorgeous vintage Berber cushions with the blues to add some warmth and they work well with the pinks in my rug. The texture of these cushions, made from remnants of Berber rugs, is perfect for this seasonal feel too. I borrowed them from Yonder for this blog post and I am so tempted to buy them as they really are divine and beautifully made.
The room really does feel very different just by changing the sofa covers and cushions – nothing else at all in the room has been changed. It just goes to show that you don't have to do a full decorating job to give your home a brand new look. I'd love to know which look you prefer…
We're all ready to settle in for the festive season but I know already I'll love retrieving my old covers from the loft once the Spring arrives!
Katy x