Hello, hello! I have to be honest and say that I have completely dropped all of the balls in the childcare/work juggle of late and the thought of painting a wall (albeit just half a wall) would tip me over the edge right now! I actually did this mini-makeover a few weeks back when I was pumped with motivation for the garden and we were in the middle of a long break waiting for deck boards so I turned my hand to Mimi's room in my frustration to get things moving. I do not predict any more projects until schools re-open, believe me.
Ahyhoo, if you remember I had started doing a big shift around in Mimi's room pre-lockdown to transform it from a baby's room to a toddler's room. I am SO pleased that I did do this because her room has been a little sanctuary for her over the last months of being at home all of the time and it has worked perfectly as a place to play rather than just a place to sleep and dress, which it had been before. I had intended to do a big re-decoration project in here BUT I decided a quick fix would have to do using only what I had at home already (as this was during full lockdown) just to make the room feel more 'finished' after changing up the furniture.
I had a load of holes to fill where I had removed shelves, which meant getting paint out so I decided to paint half of the wall in the same colour as the woodwork as I had left Light Blue Estate Emulsion from my bedroom. I hoped the colour would unify the room more as it felt disjointed and jumbled since I changed the furniture around (often a problem when you disturb an existing 'scheme'). So, this is how I did it…
Use frog tape (the green) to mark where you want your line to reach. I used a tape measure to mark the height of my line at several points along the wall and then used those marks to help me place the tape.
There is no right or wrong on how high the line should be – I was guided by the IKEA Trofast cabinet on the wall as I didn't want to paint too near that and it ended up 105cm from the top of the skirting board. When you are in the middle of lockdown and you run out of frog tape switch to normal decorator's tape (blue) and it will work just as well! Make sure the tape is stuck down really well to the wall on the bottom edge where you paint up to as this is where you don't want paint to creep beneath. Good tip for painting is to line your roller tray with foil so you can throw this away at the end and avoid cleaning out the tray.
I always think three thin coats in better than two thick coats – the first coat you can see above is very thin as I think my old paint was watered down for the last job it was used for – and thin coats dry much quicker too. Roll or brush down the wall so you don't end up pushing paint beneath the tape.
It took me a total of about two hours start to finish (I'm not one for leaving paint to dry as long as it should do!) and it really has helped to unify the room and make it feel a bit more interesting.
There was a play kitchen here but I swapped it out for this children's table and Olli Ella Pollie shelf that had been in our living room and since relegated to the loft. Mimi wasn't playing with the kitchen at all but she's suddenly really into colouring in and drawing so this works perfectly. I'll get the kitchen down from the loft in a few months time and it will be like Christmas 😉
The other big change was swapping the white rug that we had in here that was from her first nursery in our flat for this round jute rug (PR sample). There were two reasons for this: firstly, the colour and texture is much more forgiving and doesn't show up mess and dirt and secondly, I think it helps make the room feel more grounded and less airy fairy baby style.
I layered the jute rug with another mat that I bought from H&M a while back and had downstairs in Mimi's play area just to add a bit more interest (it is no longer sold in H&M but try this one). We also took down her fabric canopy as she asked me to (sob!) so I took the opportunity to put up some shelves in the alcoves using some old inserts from a book shelf that we had in the loft and some very old brackets (don't look too closely as they have been in the outdoor storage boxes and are very stained). I kept a bit of pink with the OYOY duvet cover (PR sample), which is currently out of stock but try this blush pink duvet cover set instead if you are looking for something similar.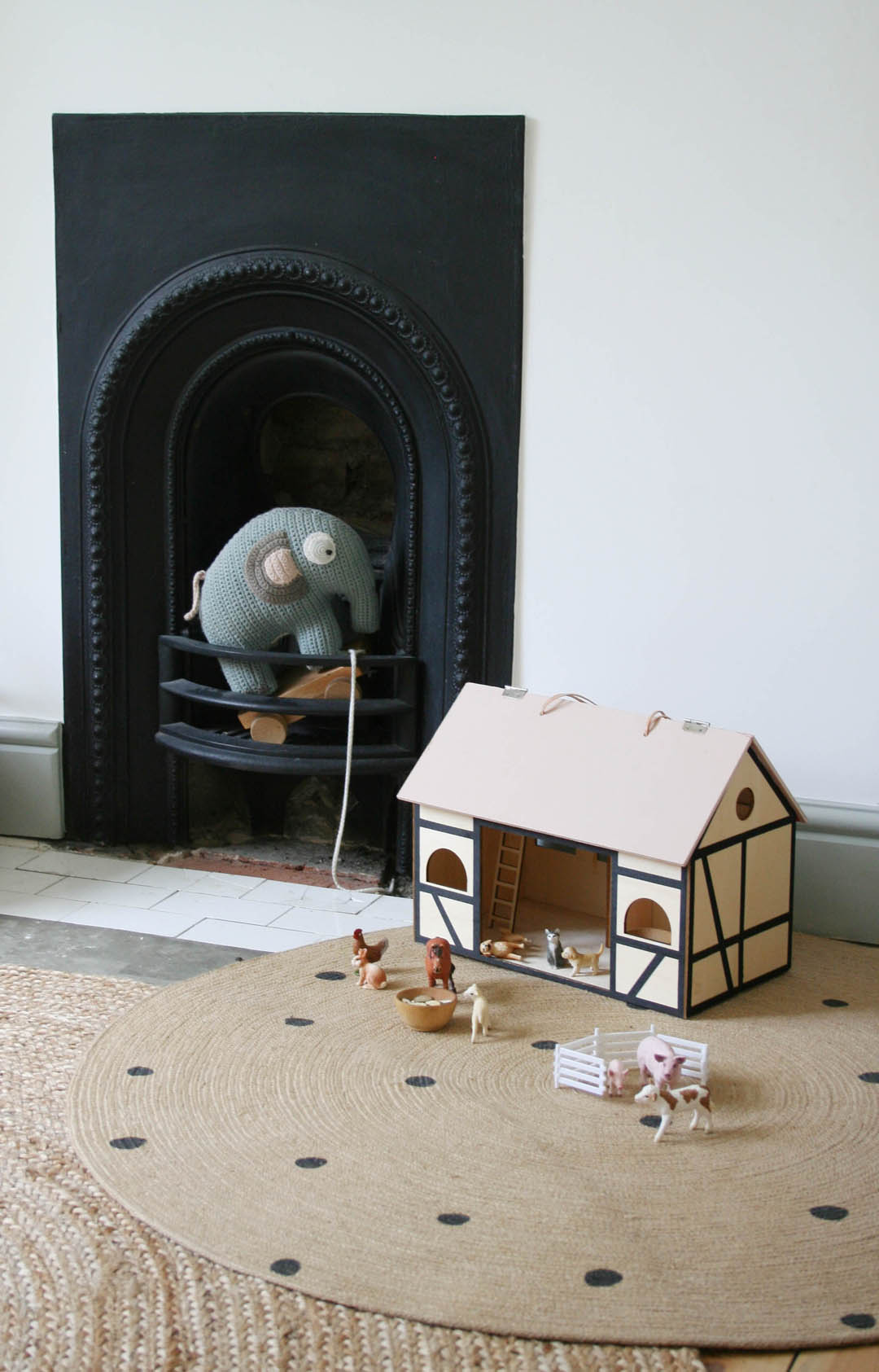 The thing that has kept her occupied more than anything the last few months is this fancy dress corner. By positioning one of the IKEA Trofast units at a right angle to the wall I created a cosy corner for her fancy dress bits, which are in the drawers as well as the rail. She chose this cute OYOY leopard rug (PR sample) to go in this corner (it's actually out of stock but this lion rug is similar) and it's nice to have more neutral colours instead of all the sickly sweet pinks that had been creeping into the room 😉
I would still like to paint the secondhand wardrobe a nice vibrant colour maybe taking a colour from the princess and pea poster but the change of rug has really helped to make the room feel more grown up.
I'm really pleased with how much more functional the room is for her now; there is space to play, storage for toys, and everything is accessible so she has complete control.
Mimi now has a completely accessible bookshelf, a desk for drawing, a storage unit for toys and a dressing up corner whereas before it was just a big chest of drawers along this wall for clothes.
I'm quite pleased with that for two hours work and I think we'll leave it at that until she's five or so other than adding some prints for the walls. We will then pass her bed onto my new niece and get her a bunk bed so that she can have sleepovers…eeek!
Katy x