I've come to realise that garden design is incredibly difficult! Unlike interior design where I find it easy to visualise the end result and how to get to that point, I could not for the life of me figure out what we should do with the space that we have let alone how to get there. I know in vague terms what type of gardens I like as well as the type of planting, materials and colours. However, translating that to a real garden is very difficult!
In an ideal world we would commission a garden designer as I think that's a very worthwhile investment and can potentially save money in the long run but it just very simply isn't within our budget. We also don't have the money to fill the garden with plants immediately; it's going to be an ongoing project for years and hopefully a very satisfying one.
Instead, I have turned to some really great inspiration from Houzz, which is a really useful resource for both interior and garden design ideas. I got it into my head that an oval lawn would be a good idea as our garden is rectangular and the idea of a rectangular strip of lawn with two beds running up the sides does not appeal to me at all. Therefore, I typed 'oval lawn' into the search box and I found two really lovely examples of rectangular gardens that have been transformed using this shape. Our garden is quite a bit smaller than these examples and with our new deck there is no where near as much lawn as there was but using images like these is all about identifying what you like and making it work with the space that you have.
I really love the way the oval lawn gives this rectangular 'London Country Garden' a whole new shape and the beautiful natural planting is gorgeous. Perfectly manicured gardens with lots of structured planting and built in planters is not my bag so I will definitely aspire to create something more similar to this. I think it's really clever the way the shape of the lawn leads your eye around the space and then off into the distance and instead of making it look smaller, which would be the assumption when making a lawn smaller, it actually creates so much more interest that the space feels and looks larger.
This next London garden is much more similar to our space in terms of length and narrowness. The double oval is a such a brilliant way of softening the edges of the rectangular garden and introducing lots of beautiful planting. I think this is a really good example of making a very basic space a real beauty without the expense of things like swanky new fencing but real attention on planting that can be done over years to come.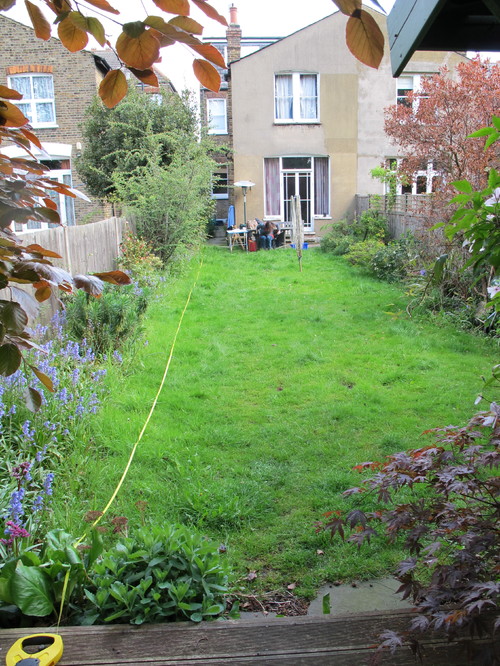 Yesterday I started the process of creating beds on the right hand side of the garden (the left can't be done yet as the turf was only laid a week ago). I want to try to create the figure eight lawn of the above garden, which will hopefully soften the rectangular shape of the garden and detract attention away from the ugly stark fencing. I want to plant as much as possible over time to cover all of those horrid gravel boards and add as much height and texture to the beds of the garden as possible. We really do want to keep as much lawn as possible, especially whilst Mimi is so young as she loves the space so I hope this design will strike a good balance.
What do you think? I've ordered some evergreens that we can put in this year, as well as a few perennials for some colour over the summer. We'll patch up the lawn as best we can with grass seed and we've decided to lay stone under the pergola but we won't do that now as the last eight weeks under lockdown with all this upheaval has been a bit trying at times and we'd quite like some time to just sit and enjoy the garden for a while once the deck is finished.
Katy x