Wasn't last week completely wondrous? All that beautiful weather and time spent outside. Staying with my sister whilst we renovate the new house we don't have a garden here but we did spend quite a bit of time in my mum's garden and Mimi had her very first paddling pool experience, which she thought was the best thing ever. As I have already talked about I have started thinking a lot about our new garden and the possibilities of making it the perfect space for us so I jumped at the chance to team up with Homesense to have a good look at their huge garden collection and show you some of my favourite pieces and share ideas to make the most of your green fingers: whether you have just a windowsill, balcony or sprawling garden.
I visited the North Greenwich Homesense store and I love the thrill of never knowing what I will find there (I go there a little too much, truth be told) as the stock is updated every day with one off finds and once it's gone, it's gone. I also love the fact that there are so many bargains to be had as the Homesense prices are often way below the recommended retail price – is it sad I get excited every time I look at the price tag?! At the moment we are restricted to indoor plants at my sister's flat – she would love to grow her own herbs as she's an amazing cook. Therefore, I was on the lookout for pots for herbs for her as well as a few things to make my mum's garden a little more welcoming. Here is what I found and my top tips for making the most of your indoor plants and/or garden space:
1. Plant your own herbs
Whether you have a huge garden or just a tiny kitchen windowsill, herbs are such a perfect way to introduce green into your home. Also, if you are able to grow, pick and use your own herbs you can play your part in reducing waste because you won't need to buy those hideously expensive plastic packs from the supermarket. I found these brilliant pots in Homesense that are self watering, which is perfect if you want to make growing plants as hassle free as possible. You just fill up the bottom of the pot with water and a thick piece of string goes up into the soil and down into the water reserve and sucks up water as and when needed. Very clever and especially good if you are prone to under-watering or over-watering your plants. They also come with a pair of herb scissors so you can snip what you need for whatever you are cooking.
2. Hanging herb planters
A good tip is to plant herbs in a hanging planter for your kitchen as that frees up worktop or windowsill space and I think they look great too. If you have a garden you can plant herbs into a colander (provides perfect drainage and looks great) and hang it by the back door so you can access herbs easily.
3. Watering tricks for indoor plants
Firstly, always keep an indoor watering can full of water by your most thirsty plants as this way you are much more likely to water them. Secondly, if you are going on holiday during this warmer weather and are worried about your plants dying place a cup of water next to them and place a string in the water and put the other end of the string into the soil of the plant. It will water itself whilst you are away!
4. Terrarium
If you want to be more green fingered but don't have a garden try planting a terrarium. I picked up a lovely glass lantern at Homesense and instead of putting a candle in it I planted it with succulents that require very little water and looking after so the perfect way to introduce green into your home with minimal effort. To find out more about planting terrariums read my terrarium guide.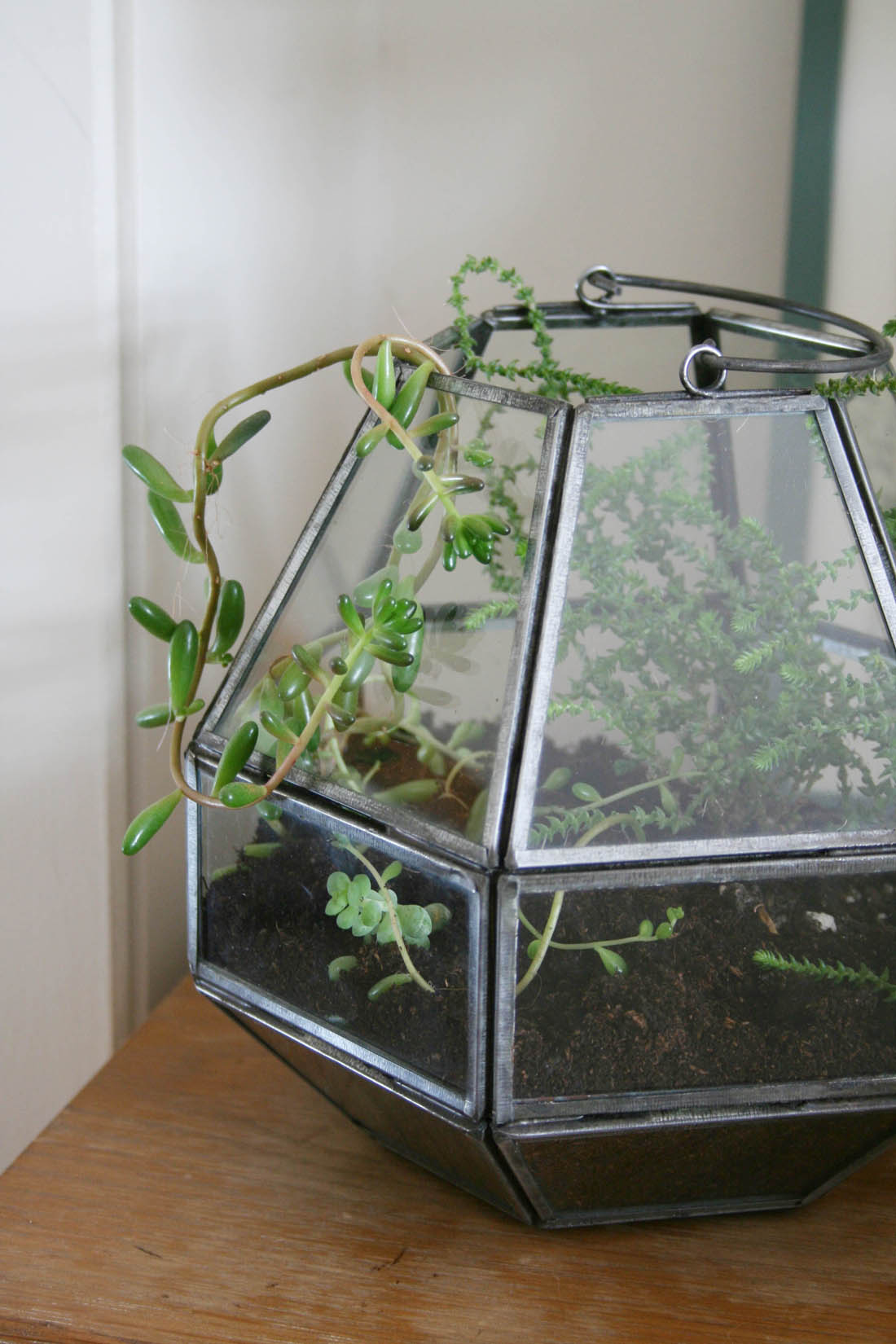 5. Use baskets as pots
Homesense is full to the rafters with all sorts of pots and planters but have you ever thought about using a basket? It's a great way to hide a very cheap plastic plant pot that plants often come in and adds great texture to any room. Homesense have the best selection of baskets and I even found ones lined with plastic that would be ideal.
6. Eclectic pots
Make your pots as interesting as your plants to make your garden or indoor plants a real showstopper. Homesense has a huge variety of pots: ceramic, glazed, all the colours of the rainbow, novelty shapes, big, small, you name it, they have it.
I absolutely loved the glazed green pot below that would perfect filled with succulents in the garden and it was only £19.99 compared to its RRP of £39.99. I can;t stop thinking about it and wish I had bought it but it was too big and heavy for me to carry home by myself with the other stuff I bought. I HATE shopper's regret!
7. Create an inviting spot in your garden to hang out
Whether you invest in a full garden furniture set (check out the one I found below in the North Greenwich store!), simply add outdoor cushions to your garden chairs or set up a rug on the grass you do need to make the space appealing otherwise it is less likely to be used. I found a brilliant selection of outdoor rugs in store and I immediately bought one as I have ruined way too many wool rugs over the years by plonking them on the grass to be mucked up by mud and whatever else. I will also take this out with me every day in the warmer weather so that Mimi and I can stop in the park and sit on the grass. I also grabbed one of these fab jute pouffes as they are great extra seats or can be used as a footstool with a garden chair. They can also be used indoors during the rest of the year.
Otto is very keen on the outdoor rug I bought that has a waterproof backing. He basically spent all weekend lounging out on it.
8. Add a mirror to your garden
A mirror is a great way of making a small garden or terrace feel bigger and can be a good focal point. I found loads of beautiful metal mirrors in Homesense that would be perfect and the more exposed to the weather they are the better they will look, in my opinion.
The mirror on the right cost £49.99 compared to £109.99! A huge saving and it would look amazing in a garden as it resembles the sun and would age beautifully over time.
9. Lighting
We tried to have dinner in my mum's garden the other day and realised that it was too dark and they have no lights that make it possible to be outside after dark so I think lighting is crucial. Try LED or solar lights as a really easy option. There's a great range in store of all shapes and sizes.
10. Get equipped
If you do want to be more green fingered it is very important to commit to it and have what you need to make planting and caring for your plants as easy as possible otherwise you are liable to waste a lot of money on plants that just die. A potting bench is a great investment for the garden and get some basic tools – you can find everything you need in Homesense's garden collection.
All we need now is for the sun to come back so we can get back out into the garden! Now, do I head back to Homesense to see if that big green pot is still there…
Katy x
*This post was written in collaboration with Homesense