It's been a few weeks since we completed on the house and even though our contractor doesn't start until the end of May we wanted to get a head start by stripping out the floor and plaster from the house so that we can get the electrics and plumbing redone. For various reasons we have been forced to remove most of the plasterwork (rather than just skimming over what was there) so even though brand new electrics and plumbing aren't completely essential it makes a lot of sense to get it all done at this point whilst the house is stripped back.
The cost of paying for a skip and someone to strip the plaster has been cheaper than the quote to remove the wallpaper throughout the house so we decided not to do it ourselves – there's just no way we could have juggled it with looking after Mimi especially as there will be so many other DIY jobs to be done along the way.
As a result of removing the plaster we will have to reinstate all the coving and picture rails but I'm very much looking forward to lovely smooth walls and perfectly positioned light switches, power points, radiators and the assurance of a brand new boiler. Apart from anything I just love being able to see the bare bones of the building and discovering original doors stashed in the loft!
Here is how the house looks now…
Downstairs
The carpet has been ripped off the stairs and I'm still not decided yet as to whether we will re-carpet them. I'm a bit worried that a carpet on the stairs will get very dirty with a dog so I'm going to think about it a bit longer. The laminate has also gone from all the floors downstairs. I am very, very pleased that the floorboards are in such a good condition as that will save us a fortune on new flooring (although a little sad I can't justify herringbone parquet).
We are actually going to keep this side of the kitchen as it is until we have the budget to completely re-do it and push it out into an extension. This is a big compromise but I'd much rather have a brand new bathroom and make do with the kitchen as it is for a while (I know a lot of people will disagree with that preference!).
The back reception has had a lot of its plaster removed and floor stripped – we just need to get rid of the fireplace now.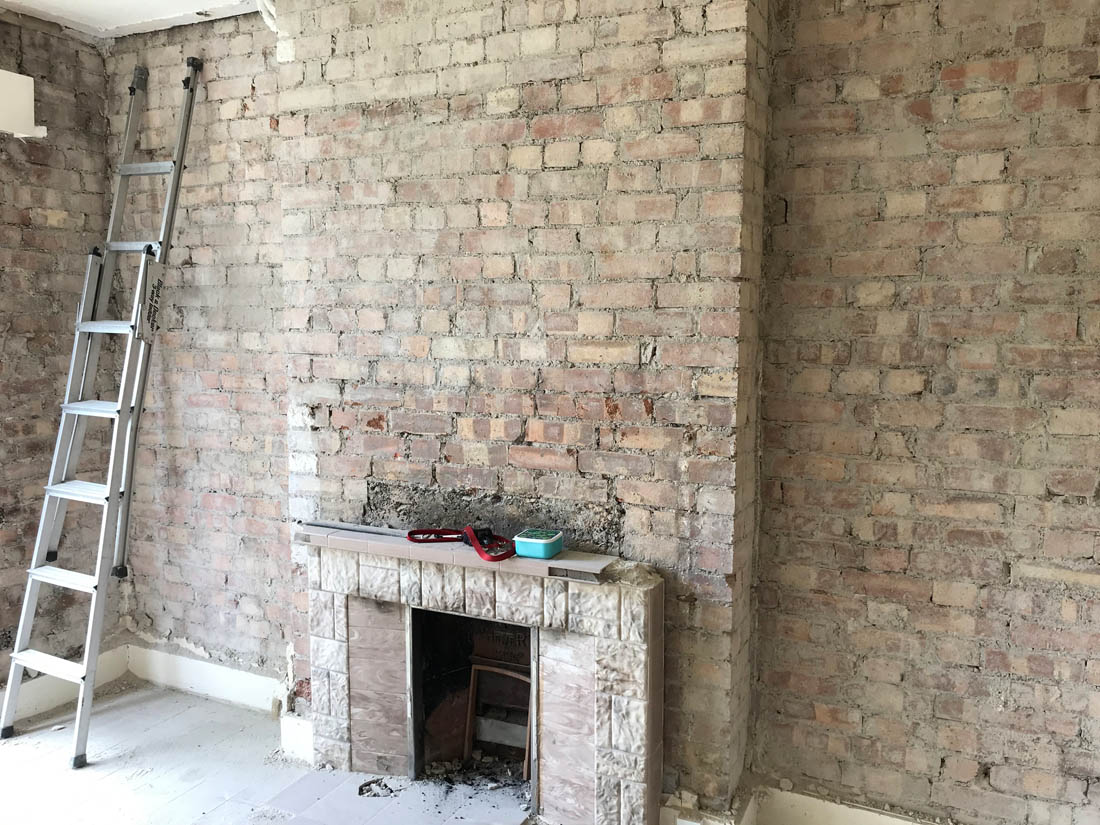 The plaster in the front reception has been partially stripped as it wasn't in too bad a condition and again we need to get rid of the fireplace although some who have seen it rather like it…what do you think?! I would like to have a wood burning stove in this side of the room if budget allows.
Upstairs
All of the ceilings upstairs have been taken down as they were plastered so long ago they need updating. Therefore we can now see right up into the loft space, which is quite amazing. We also found an original hearth in the front bedroom, which will be our room. It's a shame that the tiles are so cracked. I think we will carpet upstairs so these will get covered up again unless I can get Jules to agree to adding a fireplace to our room. It would be purely for aesthetics but I think it would be so nice to add a bit of character back to the house.
The small bedroom has also been stripped out and it will eventually become a small guest room.
It feels very exciting to see changes happening to the house already and so much easier to visualise the space now that the previous owner's stuff has all gone. I'll keep you updated!
Katy x