The sheer volume of gifts that need to be bought and wrapped is what feels quite overwhelming about Christmas to me. However, last year I overcame this problem by making my 'Christmas in a Jar' gifts – a massive stack of inexpensive, thoughtful and quick to make presents that didn't need to be wrapped. They were perfect for colleagues, neighbours and friends and saved me heaps of money.
This year I wanted to do the same sort of thing and have decided to make homemade nutella and gingerbread syrup, both of which are super easy to make and don't cost too much. They are also a little bit different and I hope will be appreciated!
Nutella
I have been inspired by Deliciously Ella's recipe for the nutella, so it has no refined sugar in it, but I've taken a few short cuts here and there. Here's how I made it…
To make one 125ml kilner jar (I bought a set of 12 from here for £20)
– 1/2 cup of smooth hazelnut butter (Ella roasts and blends the hazelnuts herself but buying the butter ready made is actually cheaper and far less hassle!)
– 1/3 cup of maple syrup
– 1/3 cup raw cocoa powder
Mix all three ingredients in a bowl until blended completely to a smooth paste and that is it! Spoon into your jar and add a pretty label. You do need to eat it pretty quickly as there are no preservatives or nasties in it so maybe mention that on the label – Ella recommends thee days.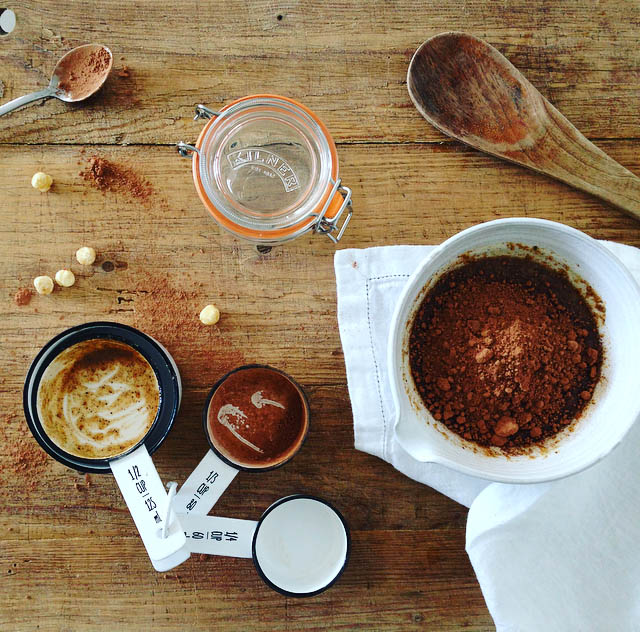 Gingerbread syrup
I was inspired to make this for the first time last year after seeing the recipe over on Laura's gorgeous blog Circle of Pine Trees. I gave Jules a bottle and he actually said it was his favourite present last year as he is obsessed with coffee and thought it was delicious.
Pop over to Lauras blog for the recipe; the ingredients are pretty simple, as you can see in the picture below.
Jules has it in his coffee and begged me to make him more when his bottle ran out.
I used a Dymo label maker and nice swing top bottles (you can buy these in supermarkets, Ikea or department stores or buy individual drinks in them and then just keep the bottle – that can actually be cheaper!) to make the present extra special.
Festive cheer and sugar and caffeine highs all round!
Got any good homemade Christmas present ideas that don't cost too much or take too much time?
Katy x
P.S. All pics taken on my iPhone because cooking (well, mixing things together) and 'proper' photo taking don't work well together in my world – the camera would end up the stickiest mess you could possibly imagine!