*This post has been written in paid collaboration with Couture Living
As you know I have been working on transforming our box room of doom to make it into a multi-functional work/guest/storage room. I've switched the furniture round and sold the daybed, installed some storage cupboards and changed the colour of the woodwork (I still need to do a fair bit like painting the walls – I think I'm going to use Slipper Satin). However, none of these changes made a massive difference to the feel of the room until… I hung new curtains! To say that they have transformed the look and feel of the room is a massive understatement. I'm collaborating with Couture Living, who offer an online made to measure curtain service, to explain why I am a total curtain convert and why I want them in every room in my house.
The first thing I want to say is that I am absolutely delighted with the curtains that I received from Couture Living and can't recommend their service highly enough. The curtains were very easy to order, they are exquisitely well made and the fabric is beautiful. I chose to have my curtains interlined so that they are gorgeously thick and luxurious feeling. The curtains have three layers: the linen fabric on the front – I chose the Halki Linen, a blackout lining on the back and another layer of fabric in the middle. This not only makes them feel wonderful and drape beautifully but the thickness keeps heat in and cold out. It's quite amazing the difference a quality pair of curtains can make to the warmth of a room and as we only have a small radiator in our box room these curtains really help to keep it lovely and cosy. I'm now thinking about this pink velvet fabric for a hallway curtain – what do you think?

The thing that always shocks me about hanging curtains compared to minimal blinds is how much bigger they can make a room feel, which is another reason to have them everywhere. It seems strange, I know, that by adding metres of fabric to a room it can appear bigger but it's true. As long as you hang the curtains high enough and long enough (must be touching the floor in my book) they will give the optical illusion of grand high ceilings, even in a small box room like mine. I am gobsmacked at how much bigger the room now feels compared to the barely visible roller blind we had up in here temporarily.
As I said, the addition of these curtains has totally made this room look and feel 'finished'. Curtains have the ability of pulling a colour scheme together and unifying a room. They have made my unfinished room feel so warm and inviting in a way that no other piece of furniture or decor could do. If you are struggling with a room not feeling complete think about what you have on your windows as it may be the key piece of the room that's missing. The other important part of having beautiful, beautiful curtains in a room like this, that has previously been a dumping ground and somewhere that I close the door and ignore most of the time, is that I suddenly have a new found desire to spend time in here. I really think it will help motivate me to use the room properly and it will finally shake its room of shame label!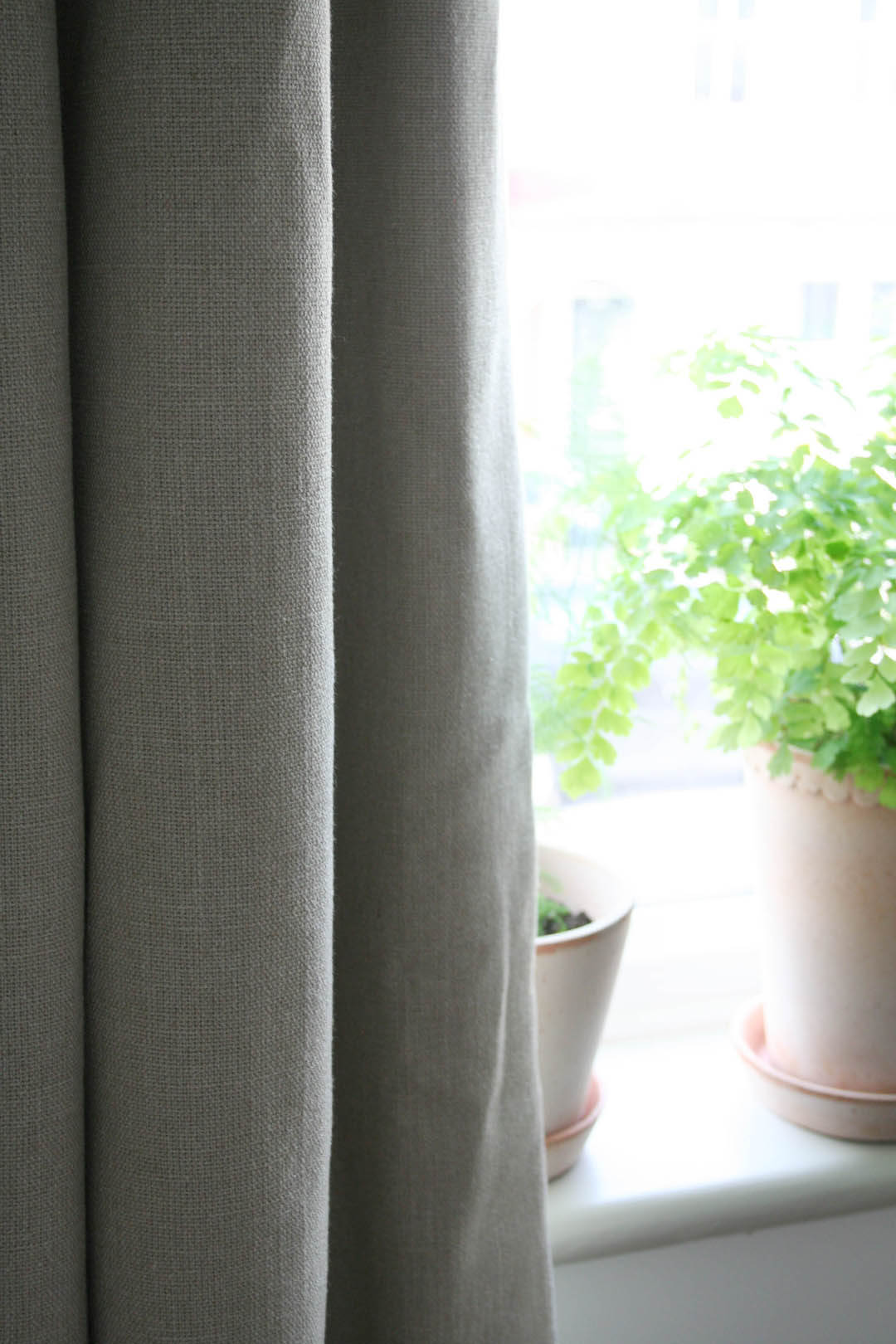 Choosing, measuring, fitting and hanging curtains can be off putting to some as it can be quite an involved process. However, after using the Couture Living site I can honestly say that it really doesn't need to scare anyone. The biggest quandary will always be what fabric to choose and after that all the hard work is done for you with this very useful curtain and blind measuring guide and my top tip is this very inexpensive curtain rod that makes hanging curtains so easy.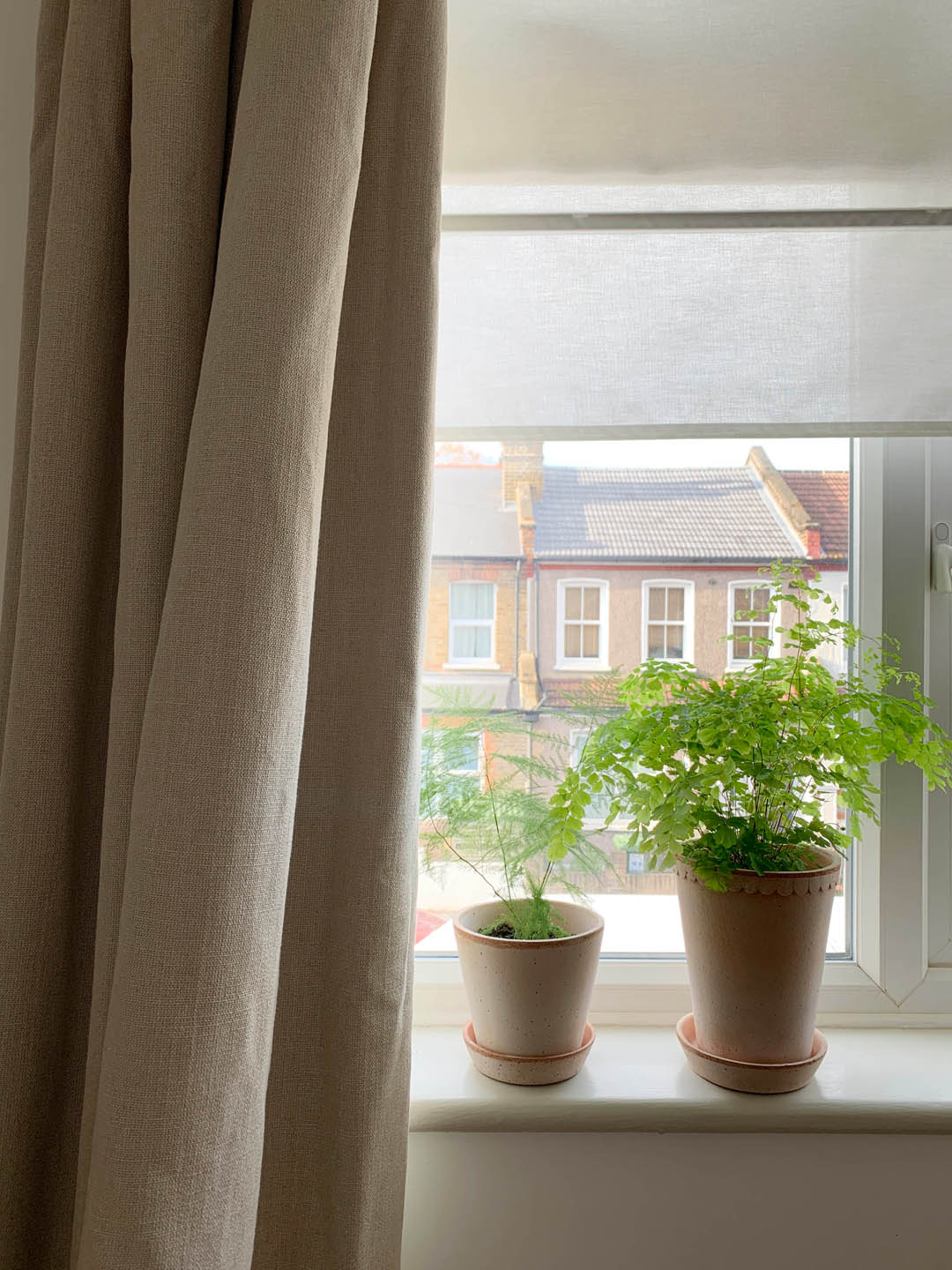 I'll be honest and say that I agonised over the the fabric choice and I was very close to choosing this William Morris fabric but actually I am so thrilled with my final choice of Halki Linen so these are my tips for choosing the right fabric for your room:
1. Order samples… always!
2. Pick a colour from your room's colour scheme either from the walls, carpet, lampshade or art work. Choose a neutral – I was very close to choosing this gorgeous parchment linen, which is slightly lighter in colour than the Halki Linen – if you want the curtains to blend with the rest of the room or an accent colour if you want the curtains to make a statement or even establish the colour scheme for a room.
3. If you choose a pattern think about how they will look closed as well as open.
4. Select the type of fabric very carefully as this will have a big bearing on how your curtains drape and the feel they will give to the room. Cotton and linen will hang well whilst velvet will give a much more opulent feel.
5. If you want to block out light you will need black out lining and if drafts are a concern choose inter lining (so there are three layers of fabric) which gives the curtain a wonderful heaviness and luxurious feel.

So, I'm left wanting curtains in every room and I would absolutely love them in our sitting room bay window but I fear the cost of a curved curtain rod and the fact that there isn't much space to draw the curtains back onto is an issue. Anyone else successfully hung curtains in a bay in a small room? I'd love to see pics if you have any.

Katy x